This article provides an overview of changes and additional features included in the Puzzel Contact Centre Solution release implemented in the evening of April 20th, 2021. 
The changes made in this release mainly concern the Admin Portal, Agent Application, Chat Application, Bot Gateway, and Agent Assist.
Note that some of these features may require a customised set-up before they can be activated. In addition, some features may have a set-up and/or monthly cost element associated to it.
Administration Portal
List all users/groups that have a set value for a property
On page Users – Products (that most admins can see) and on page Users – Access Control – Administration (that only main admins should see), you can now click on a new icon next to the property name to see all user groups and users who have a specific set value for a property instead of inherited the value from above.

This is useful not only if you want to see if any users or user groups have a property value other than the inherited value from the company level, but also because you here can list the different property values used in your Puzzel solution.
Examples:
What are the different wrap-up times defined for different user groups? (click on the icon for this property on page Users – Products – Agent timeouts)
Which users have Automatic logoff after no-answers / errors / at midnight ON? (click on the icon for the property on page Users – Products - Logon to queue)
Who other than me have access to Administration? (click on the icon for property 'Show pagegroup Administration' on page Users – Access Control – Administration)
New Queue overview report for all media types
Today we have different statistics reports on queue level for different media types: Details per queue for phone, Details per chat queue and Details per queue for email and social media. 
To give a better total overview, we are now launching a new queue report that shows requests in queues for all media types.

This report has the most important columns that give meaning for all or most media types. This new report does of course not contain all the optional columns available in Details per queue.This report does not replace today's 3 queue reports, but it's a supplement.
If you want access to the new Queue overview for all media types, please contact support and ask for it.
Improvements and bug-fixes
In statistics report Details per queue, fixed a small bug related to column "Hang-up before SLA" when Alternative SLA was not defined for a queue
In statistics report Details per agent per queue, fixed a small bug related to Total login time for user that was moved to a new user group
Adjustments in partner (parent customer) access 

From now on, a partner/parent user will see Users - Products accordions on the child customers only if this user has access 
From now on, a partner/parent user will see 'Max time per pause type' on a child customer only if this user has access

In Catalog search in Puzzel Admin, a small bugfix related to clicking Back in the browser
Widget Tab Admin
In this release of the Widget Tab Administration section of the Puzzel Admin portal, we have prepared a set of improvements. These are listed below.
JSON Editor 
The JSON Editor is a code editor, which allows editing the Tab Configuration, which is in Json Format, directly. This mode is considered an expert mode and should only be used by users, who have deep understanding of the Widget Tab Configuration files, structure and requirements. 
The JSON Editor looks like this: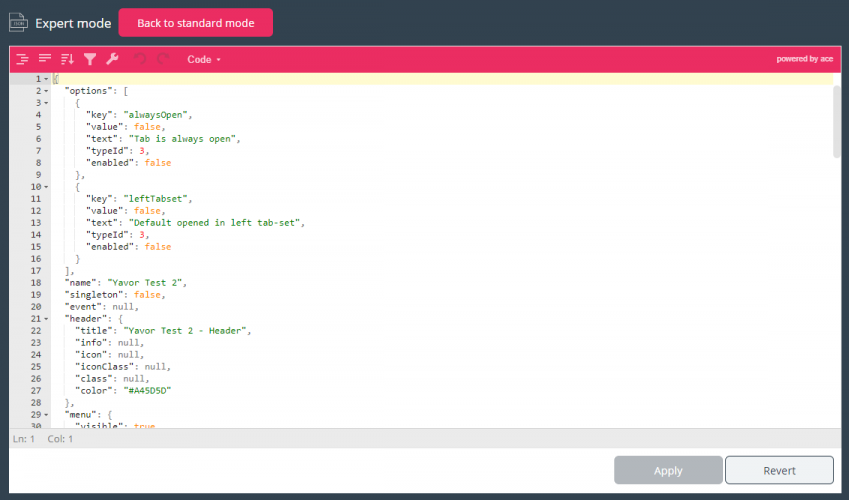 This is useful for scenarios when one wants to directly edit a value of the configuration, or perhaps override a layout setting, which is not available through the default UI of the Layout. 
Improvements and bug-fixes
Fixed a configuration issue, which showed widgets, which no longer had access rights, into the current configuration.
JSON Editor small visual improvements.
Fixed an issue with resizing elements with very small height. 
Agent Application
Show limited number of requests in queue details widget
Support hiding columns in Agent Details widget
Show contact name when calling and consulting
Chat Application
Option to hide end page after ending chat
Support for adding emojis in conversation
Support for chat button outline
Support for chat button dropping shadow
Show status text when agents join and leave conversations
Option to only offer survey after conversation with human agents
Add support for hyperlinks in intro-text
Support for custom avatars
Bot Gateway
Smart Replies
We have added support for Smart Replies feature from Boost.ai. With Smart Replies activated, your virtual agent remains in the background, analysing conversations in real-time and intelligently suggesting responses to human agents. Activation of this feature also improves the analytics data in Boost Admin Panel as all relevant conversations and metrics are logged from the Bot Gateway properly.
Agent Assist
Smart Replies
Agent Assist Bot panel now supports Smart Replies. Smart Replies are a targeted set of suggestions that are designed for agents. Boost.ai chatbots enabled through Agent Assist can be optionally selected to use this feature. When enabled, up to 3 predicted answers or suggestions are displayed to Agents. When Agents send messages to the chatter, the conversation is logged in Boost.ai, and when agents directly ask the bot for an answer, the bot will respond but these private questions are not logged in Boost.ai.
Microsoft Dynamics
The Microsoft Dynamics widget now supports up to five columns in the search result. To enable this functionality, the AccountView or ContactView fields needs to be updated with the new fields that needs to be shown in the search result. Any configured columns must be a valid property for the EntityType you are configuring,
The last column must be a phone number field to enable click to call feature.
Example ContactView with 5 columns, where department and description have been added:
NAME:fullname,POSITION:jobtitle,DEPARTMENT:department,DESCRIPTION:description,PHONE NUMBER:mobilephone
Example AccountView with 4 columns where description have been added:
NAME:name,DESCRIPTION:description,DESCRIPTION:description,PHONE NUMBER:telephone1