This article provides an overview of changes and additional features included in the Puzzel Contact Centre Solution release implemented in the evening of December 15th, 2020. 
The changes made in this release mainly concern the Admin Portal, and the new Chat Application.
Unfortunately, the release of the Agent Application was not deployed as planned, due to technical issues. The agent application is therefor postponed to Puzzel's next maintenance window in January.
Note that some of these features may require a customised set-up before they can be activated. In addition, some features may have a set-up and/or monthly cost element associated to it.
Agent Assist
Bugfixes
In the Interaction History component, the comments related to an enquiry registration were not shown when expanding a row.
Where a call was presented in agent application without a country code prefix, the Interaction History search did not always fetch the correct entries from Media Archive.
Administration Portal
Preview details for Scheduled tasks in Admin Portal
A request with media type email can be previewed by clicking Preview on the Queue Details page under Real-time – Queue overview. Then we show From, To, Subject and Received time. 
For Scheduled tasks (which use media type email) added by users from agent.puzzel.com (or added using the new API RequestScheduledETaskAdd), we have other input parameters, so when you clicked Preview for a Scheduled task on the Queue details page, we did not show the details. And, on the Scheduled requests page (under Real-time – Queue overview for a selected queue) where a Scheduled task is shown from when it is created until its Scheduled time, we did not have a Preview link.
We now introduce a Preview link on page Scheduled requests for queues that show Scheduled tasks. If you click on such a Preview link, we will show all the Scheduled task's details (except Description):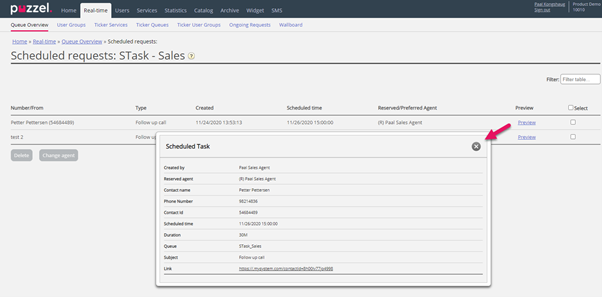 In addition, the Preview link for a Scheduled task on the Queue Details page will from now on show all the input parameters the agent (or the API) provided, except the Description.
Show blog on Admin Portal Homepage in local language
Until now we have shown the English Puzzel blog on the Admin Portal Homepage for all users. From now on we will show the "local language" blog for admin users that belong to Norwegian/Swedish/Danish customers.
Link to privacy page in Admin Portal
On the sign in page (https://admin.puzzel.com) we have added a link to Puzzel's Privacy Policy. 
After you have signed in, you will also see a link to our Privacy Policy on the bottom of each page.
Access to Services - Add Service variables
On page Services – Service variables, some users see the accordion Service variables, where they can change current value for existing service variables. From now on, certified Call Flow Tool users can also be given access to accordion Add service variables on request. If you want (some of) your admins to have access to the Add Service variables accordion, please contact Puzzel support so that we can give access to it. 
When such access is given, you (the main admin(s)) will see the new property 'Add service variables' on page Users – Access control under Administration, and users that have this property ON can see the Add Service variables accordion and create new service variables (drop-down and string)
Catalog – Administration: Access to Organisational settings
Until now, users with access to page Catalog – Administration have seen several accordions on this page, but not Organisational settings.
From now on, accordion Organisational settings will also be shown.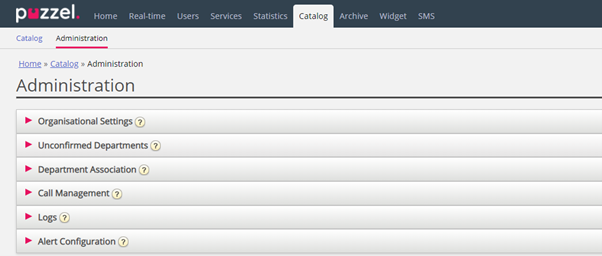 Widget Tab Admin
For the December 15th we are introducing a set of small improvements and layout enhancements for the Widget Tab Admin. Some of these are:
Save Icon - visual indication, when there are unsaved changes on the layout
Colour Picker - ability to choose no colour
Tab Settings - drop-downs with pre-populated value and lookup, for easier picking of values
Tab Settings - Menu section has been removed. Its only preserved property - "Visible in menu" - has been moved to the properties section of the settings
Busylight 
With this release we are also introducing a set of small improvements for our Busylight integration. These are:
Agent Status - the app now reflects the agent status in the agent application, during sign-in and logging off
The Chrome app now has the same global Extension Id for every instance of the app. This eliminates some of the work to configure this separately
Automatic on mode allows the app to start in on mode when initialized
Sound setting - allows sound to be toggled on/off via a simple button in the Busylight widget within the agent application
Bugfixes
In Ticker queue and in Wallboard for queues, the Average wait time sometimes was shown as 0 and the Answered within SLA was not always correct for a queue if an agent had made a consult call to this queue. 
In Archive, some searches for emails returned no emails even if there were emails in the selected time period, due to email 'formatting' issues.
For users with language= Swedish we did not show all labels in Catalog when user tried to export contacts. 
The Queue details page in Admin Portal did not show the calls for a phone queue if incoming calls where given a colour to be shown in the agent application.  
If you earlier had defined a wrap-up time on a system queue (on page Services – Queues under System queue settings) and you now wanted to remove it (to use wrap-up defined on the user group instead), it was not possible. 
Enquiry registration Categories were not always shown in correct order in agent.puzzel.com when Categories per queue was configured
New Chat Application
In the new Chat Application we have added support for the following features:
Customizing the chat window size (through properties in Chat Admin).
Enable moving the chat window (through a property in Chat Admin).
Delay showing the chat button (through a property in Chat Admin).
Support starting the chat immediately when entering a page (through a property in Chat Admin).
Showing a notification when receiving a message from the agent (through properties in Chat Admin).
Minor improvements and bugfixes.