This document provides an overview of changes and additional features included in the Puzzel Contact Centre Solution release implemented in the evening of
June 23rd, 2020
The changes made in this release mainly concern the following areas:
Agent application

Social Media Channel

Conversational Platform

Identity and Verification (ID&V)
Some of these features require a customised set-up before they can be activated. In addition, some features may have a set-up and/or monthly cost element associated to it.
Agent Application
In addition to minor improvements and bug fixes, these are the main new features added in this release:
Support for Microsoft Teams integration
We are now introducing Microsoft Teams as an optional search source. This will enable agents to search for contacts in Teams in the same way as you can for other sources.
As for our current S4B integration, the following prerequisites are required:
Customer uses Office 365 with authentication through Azure AD

Necessary set-up is configured in Microsoft Azure and Puzzel's Admin Portal

Necessary set-up is configured in Puzzel's Administration Portal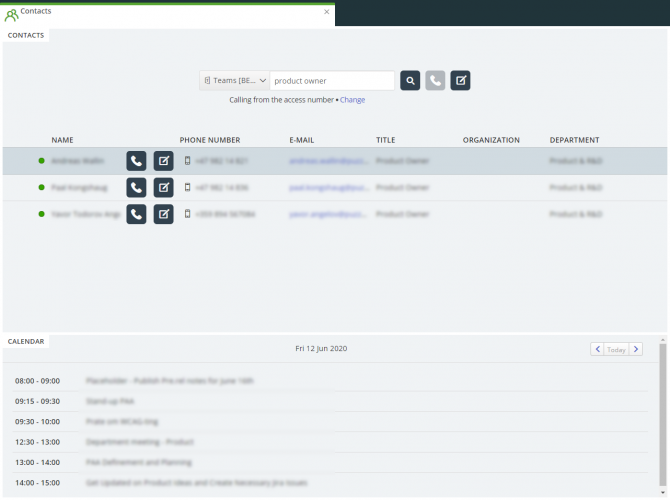 The presence status shown for a contact currently is based on a beta-version of Microsoft's presence-API. Hence, we are showing presence status only when executing a search and it is not updated while shown in the search result.
This also means that the presence status feature is not as reliable as a production-version and may in worst case not work at all. Puzzel are following Microsoft's progress on their APIs and aim to update once available.
SSO directly towards Azure AD
We have added support for SSO (Single Sign On) directly towards Azure AD, without having to go through Auth0. This will simplify the whole SSO process and make SSO less dependent on third party services.
E-task - Inherit URL from CRM popup
For customers using e-task and adding tasks directly from call requests, we are now adding the requests CRM popup URL (if defined) to the task's "Link" field, so that agents do not have to do this manually.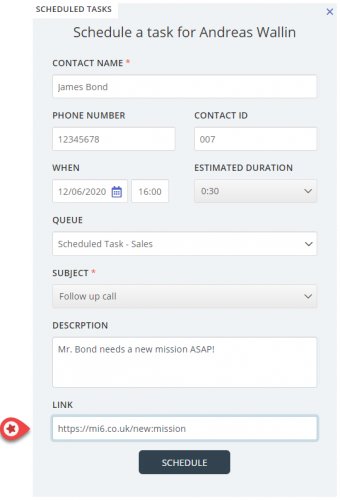 Social Media Channel
Facebook Dark Posts
Facebook Dark Posts are posts that are made by users to a company's Ad Campaign. Previously, such comments were not fetched by our solution. With the June 23rd Release, our API successfully fetches such comments and they appear in the PAA as any other Facebook post/comment.
Attachments - Facebook, Messenger, Twitter 
We are also adding support for Attachments for Facebook, Messenger and Twitter. Below is a screenshot of the functionality in action: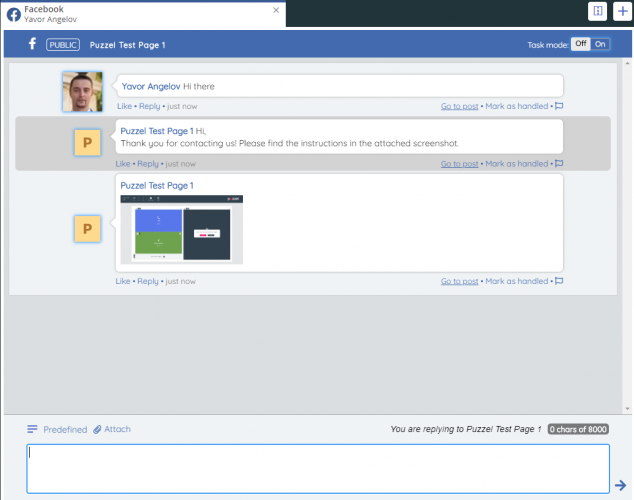 Both incoming and outgoing messages are supported.
For each image, a thumbnail is available and upon clicking this, one can see the larger version of the image.

When an agent wants to attach an image, this can be done by simply clicking the "Attach" button, navigating to the image that needs to be attached, through the upload dialogue, and attaching it.
Below is a list of the supported sources, along with the limitations on them:
Facebook - Only possible to send one image at a time.
Messenger - Only possible to send one image/file at a time.
Twitter
Tweets - can contain multiple pictures, and they're forwarded to the agent as a list.
Direct Messages - Only possible to send one picture in a Twitter DM.
Conversational Platform
The Conversational Platform is a hub which allows customers to connect different bot frameworks to Puzzel Contact Centre for the purposes of enabling self-service using chatbots. This hub consists of several ready-built connectors for some popular bot frameworks in addition to an API that allows customers to connect generic bot frameworks. One of the main features of the Conversational Platform is the ability to seamlessly handover chatbot conversations to human agents. Chatbots are made accessible through the standard chat interface from Puzzel or using the chat API.
Support for Boost.ai Vipps authentication 
Conversational platform now supports handling authenticated chat sessions via boost.ai powered Vipps authentication. Successfully authenticated chat sessions can be resumed in the same Puzzel chat session for a seamless experience by the end user.
Support for user-agent in Boost.ai bot client
The HTTP header User-Agent identifies the type of device the chat client is using. Conversational Platform can now send these across to Boost.ai for analytics purposes in the dashboard.
Support for link target in Boost.ai bot client
From the system configuration in boost.ai portal, it's possible to set that all links should be opened in the same tab or in a new tab. Conversational Platform can now handle such link targets so that the Puzzel Chat interface presents links appropriately. 
Support for creating tasks in Boost.ai admin
Ability to add tasks via the task api is added to the boost.ai bot client, so that agents can add tasks directly from Agent Assist bot panel. This feature is added to Agent Assist to allow agents to suggest improvements or suggestions in the form of a task.
Identity and Verification 
Puzzel's Identity and Verification (ID&V) module help your agent guide the customer easily and securely through a simple step-by-step identity verification process in chat channel or via the IVR in the Telephony channel. The ID&V module already offers support for Norwegian and Swedish BankID. In this release we add support for the main identity verification services in Denmark and Finland, NemID and FTN.
Support for Danish NemID
Puzzel's Identity and Verification (ID&V) module now have support for NemID by Nets in Denmark. This module also requires you as a Customer to apply for a certificate for your business directly from Nets in Denmark. Puzzel will guide you. Nets/NemID charge additional fees for verification transaction in addition to Puzzel verification transaction fees
Support for Finnish Trust Network (FTN)
Puzzel's Identity and Verification (ID&V) module now have support for FTN.
Full Message Level Encryption (FMLE)
Puzzel now support FMLE for all countries where we offer Puzzel's Identity and Verification (ID&V) module. This encryption option mostly applies for FTN integrations.