This article provides an overview of changes and additional features included in the Puzzel Contact Centre Solution release implemented partly in the evening of June 29th and partly in the evening of July 1st (due to rollback of the agent application in the original maintenance window)
The changes made in this release mainly concern the Agent Application, Agent Assist, Bot Gateway and (new) Chat Application.
Note that some of these features may require a customised set-up before they can be activated. In addition, some features may have a set-up and/or monthly cost element associated to it.
Agent Application
Live Share functionality
Puzzel's latest product, Live Share, will allow end customers to share their browser pages and video in real-time with your contact centre agents while engaging in a call, web chat or social channels. These tools will empower your agents to aid your end customers in solving complex queries in a live environment with personalised guidance. No software download is required at either end and the real-time video uses WebRTC technology which is native in all modern browsers.
Screen Share
Whilst seeing the same browser page as the end customer, the agent can highlight areas of interest on the page to help the end customer focus and help them fill web forms, find a product of interest, or in other ways assist the end customer on your website. Sensitive data like user id, password, or credit card details on the web page can be masked from the agent to be in-line with the security compliance regulations.
Co-browsing is seamlessly integrated into Puzzel Agent Application and the agents can use this feature where necessary to assist the customers fill their forms by highlighting areas of interest or guiding them through their purchase.
Live Share
Puzzel's Live Share provides agents a visual engagement capability fully integrated in the Puzzel Agent Application. This empowers the agents to assist their customers in their digital journey through a video call for a more satisfying and empathetic user experience similar to an in-store presence. Video and Co-Browsing can be used at the same time.
Download Log Files
Occasionally it is useful to have log data from the agent application available when experiencing problems and troubleshooting with our Support. It will now be possible to download the log data as a file stored on your device.
Improved Teams Search
Improvement on status information and status icons has been made when doing a Teams search. Previously when doing a Teams Search only "traffic light" icons would be shown. Meaning, green for available, yellow for different away statuses and red for busy.
Multiple statuses are now possible to be shown, for example being Out of Office but still available. Out of Office reason text is shown in the tooltip when hovering over the status icon. The icons are mirrored of the Teams icons so they are easy to recognise. This improvement will make it easier for Agents to have an overview of availability in Teams as well as having quick access to Out of Office information.
Chat Emojis for Agents
Previously chat emojis has been added for the end users using the Puzzel chat. Now this feature has been extended to also be available for Agents when chatting with end customers.
Chat Application
SSO support for nickname & chat id
When introducing SSO (secure chat), we had a challenge in showing the system variables (nick)name & chat id as verified, when verified claims were mapped to them - this is now supported. In cases where name and/or chat id (usually the e-mail address) is verified and mapped, but in addition the end user is asked to enter a free text name and/or e-mail address, the verified variables are used.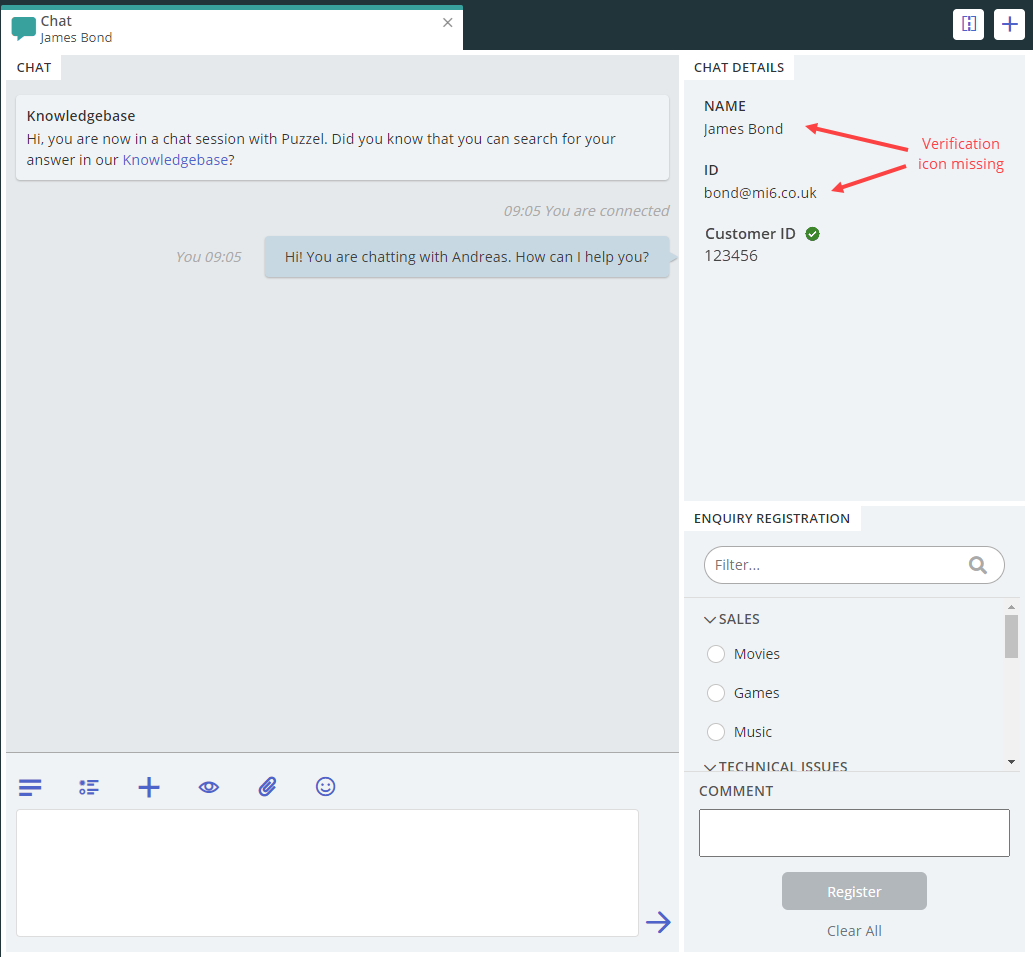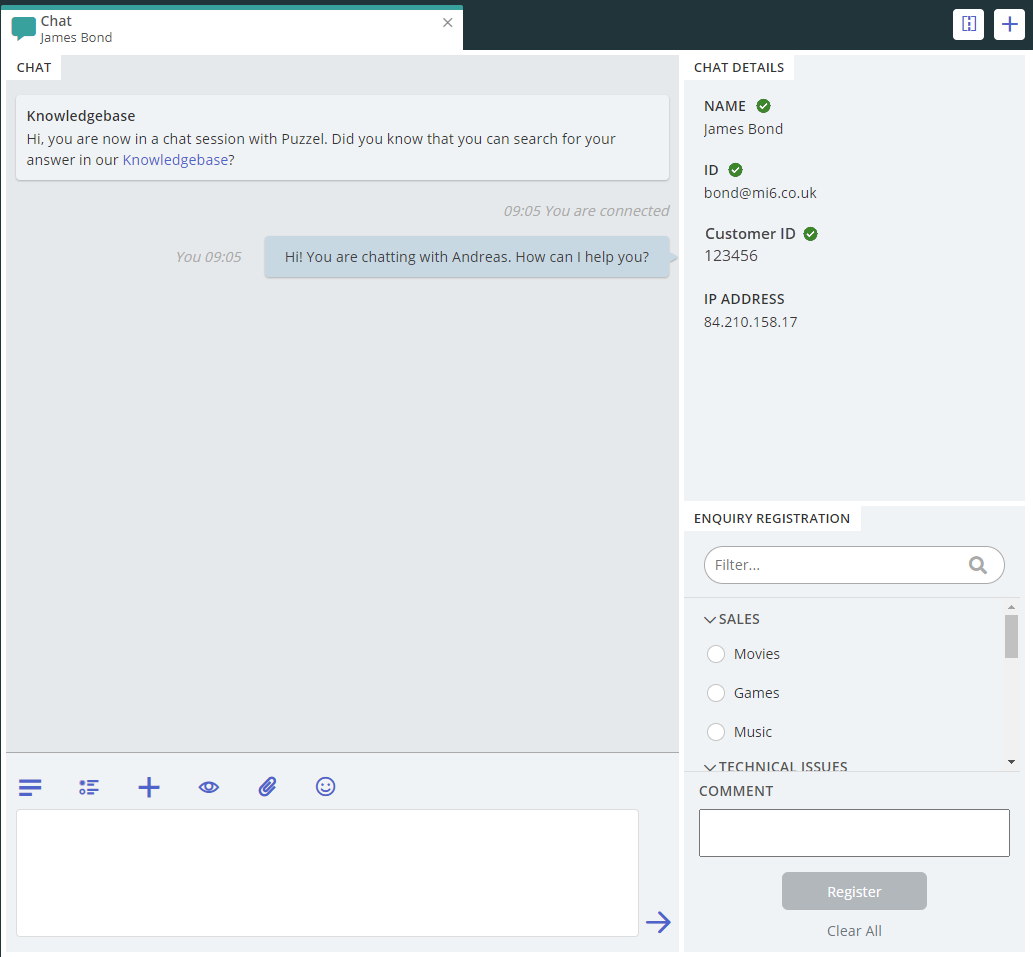 Support URL on Survey page
For most body texts used in the chat application and customized in chat admin, it is possible to add a hyperlink. This is now also supported on the Survey page.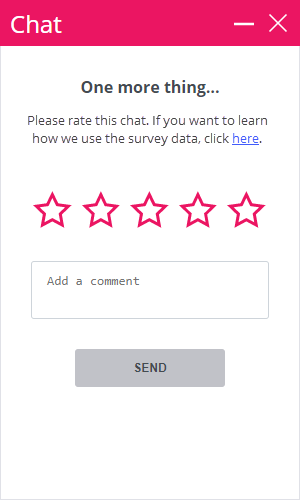 Support URL on End page
For most body texts used in the chat application and customized in chat admin, it is possible to add a hyperlink. This is now also supported on the End page.
Not show goodbye message when more than one agent is in a chat conversation
If more than one agent is in a chat conversation we will no longer show the automatic goodbye message when other than the last agent leaves. This is to not confuse the end user to think that the chat is ended, when there are still agents in the conversation.
Agent Assist
Bugfix
Agent Assist with chatbots using the smart replies feature from Boost.ai resulted in the bot logging a new conversation after a handover to human agent. In addition a browser reload of the agent application resulted in a new conversation being logged in Boost.ai, these issues are now fixed.
Bot Gateway
Boost.ai chatbot client configured with smart replies feature may have failed to return a response as it timed out into the virtual agent mode. We have now ensured that the conversation remains in the human agent mode for the duration of the conversation with the agent, even if the timeout is exceeded by checking the status and switching the conversation mode when needed.