This article provides an overview of changes and additional features included in the Puzzel Contact Centre Solution released in the evening of November 3rd 2020.
The changes made in this release mainly concern the Agent Application and Administration Portal.
Note that some of these features may require a customised set-up before they can be activated. In addition, some features may have a set-up and/or monthly cost element associated to it.
Agent Application
We've added a link at the bottom of the sign-in page pointing to Puzzel's Privacy policy page.
We've added an automatic line shift before the footer text when sending an SMS- or e-mail message.
We're now supporting to hide the caller's number in the phone widget.

This is activated through admin property "Show callerno in header" found under "Users -> Products -> Screen popup".

You can now define which contact number type is default shown in a contact search e.g. mobile or phone.

This is activated through admin property "Default phonenumber set in searchresult" found under "Users -> Products -> Search".

Add support for allowing camera in an iFrame widget.
We are now including SSO sign-in records in the Administration Portal's Access log.
Bug fixes and minor improvements.
Administration Portal
Call recording transcriptions available in Media Archive
For customers with call recording transcription shown in the agent application's Agent Assist, we can now offer these transcriptions in the Admin Portal's Archive.
If a call is recorded and a transcription is made, this transcription will appear in a new tab in the Archive next to the Recording tab, if turned on by Puzzel.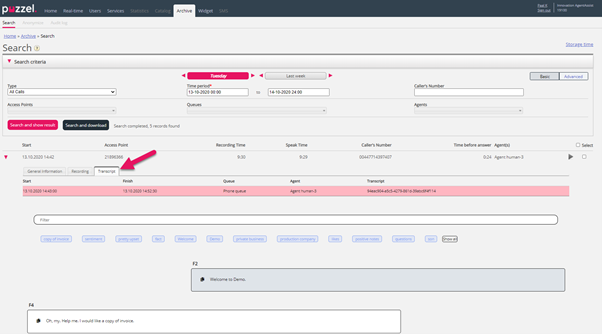 You can use the filter input box to search for and show parts that contain specific words in the transcription, and you can click on one or more of the key words to see where these appear.
If an incoming call has 2 call recordings since the caller spoke with 2 agents, there will be 2 rows in the Transcription tab as well.
Please contact Puzzel if you want to see your call recording transcriptions in the Media Archive, or if you are interested in starting to make transcriptions of your call recording sound files.
Admins can now change reserved agent for Scheduled tasks
If some of your agents create Scheduled tasks in the agent application, these tasks are shown for agents in the agent application's Scheduled task tab, and agents can change the scheduled time and other parameters for scheduled tasks.
In the Admin Portal on page Real-time – Queue overview you can see the number of scheduled tasks per queue in the column Scheduled, and if you click on a number in this column, we show one row per scheduled task in this queue.
Until now, the administrator has been able to delete a scheduled task, but not edit it.
From now on, a user who has access to delete requests (emails/callbacks) in queue and delete Scheduled requests in the Admin Portal, will also have access to edit the reserved agent for a scheduled task.

On the page that shows one row per scheduled task, the administrator can select one or more Scheduled tasks (requests) and click Delete or Change agent. If Change agent is clicked, a new window opens, and here you can add, change or delete reserved agent.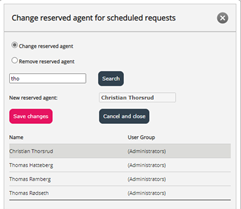 If you select Change reserved agent, search for and select an agent, and then click Save changes, we will set the selected agent as the new reserved agent for the selected request(s), and we will use the new agent's predefined reserved time (Users – Products – Agent application - Scheduled task reserved time in minutes).
If you select Remove reserved agent and click Save changes, we will remove the reserved agent for the selected request(s).
This functionality can be useful in case an agent reports in sick in the morning and this agent has scheduled tasks in his calendar today. The admin can now select these tasks and remove or change reserved agent so that the scheduled tasks are sent to another agent at or shortly after the scheduled time, instead of waiting in the reserved agent's personal queue until the reserved time (might be e.g. 60 minutes) has ended.
Bug-fixes
On the Edit Group number page (under Users – Users), it was not possible to add new skills to a profile. This bug is fixed
In some cases, a customized statistics report showed up as empty. This bug is fixed.
In some cases when setting up a new Statistics report subscription, the shown time intervals were wrong. This bug is fixed.
Max number of rows in an import file with user external ids for SSO was set to 100. The max value is now changed to 250.