This article provides an overview of changes and additional features included in the Puzzel Contact Centre Solution scheduled for November 17th, 2020.
The changes made in this release mainly concern the Widget Tab Admin and Microsoft Dynamics Widget.
Widget Tab Admin
The Tab Administration is located in the Widget -> Tab Configuration section of the Admin Portal.
It is a completely new version with very similar functionality to the previous release, but with greatly improved design, as well as user experience.
Header 
The header for the Widget Tab Admin has been updated to look like this:

It contains the following elements:
Customer Key - which is the id context of the current customer
Save icon - which allows one to save any new changes made to a tab layout. 
Tab Settings - this is a collection of settings, pertaining to the tab, header and menu elements. It looks like this, when opened:
 
Layout
The bulk of the changes for the release are related to the Layout generation for the Widget Tab Admin. This includes:
A complete sample layout looks like this: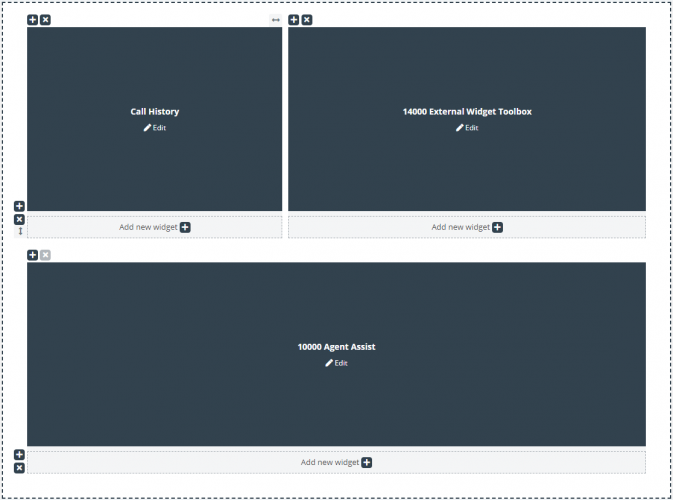 Microsoft Dynamics Widget
Customized search filter per channel
It is now possible to customize the search filters per channel. This gives the possibility of making searches more efficient by tailoring the search to the channel, not searching for an email address on an incoming voice call for instance. This configuration can be done per entity per channel so there are specific filter for contacts, accounts and custom entities.
Enabling and disabling search for contacts and accounts
Search for contacts and accounts can now be enabled and disabled in the admin portal instead of always being on
Customized height of match window
The height of the match window can now be customized via an option in the admin portal.
Bug fixes
Fixed a bug on no match
Buttons for adding contacts, accounts and cases should now always be shown on a no match.
Fixed a bug when adding activities manually
The add activity button will now be greyed out after adding an activity.