This article provides an overview of changes and additional features included in the Puzzel Contact Centre Solution release implemented in the evening of September 7th.
The changes made in this release mainly concern the Agent Application.
Note that some of these features may require a customised set-up before they can be activated. In addition, some features may have a set-up and/or monthly cost element associated to it.
Agent Application
Updates to email and etask
An additional close button has been introduced to make email and etask more intuitive and quicker when the Agent has completed a request and wants to close it. The button behaves the same way as if the agent closed the tab by clicking the "x"-button at the top right of the tab.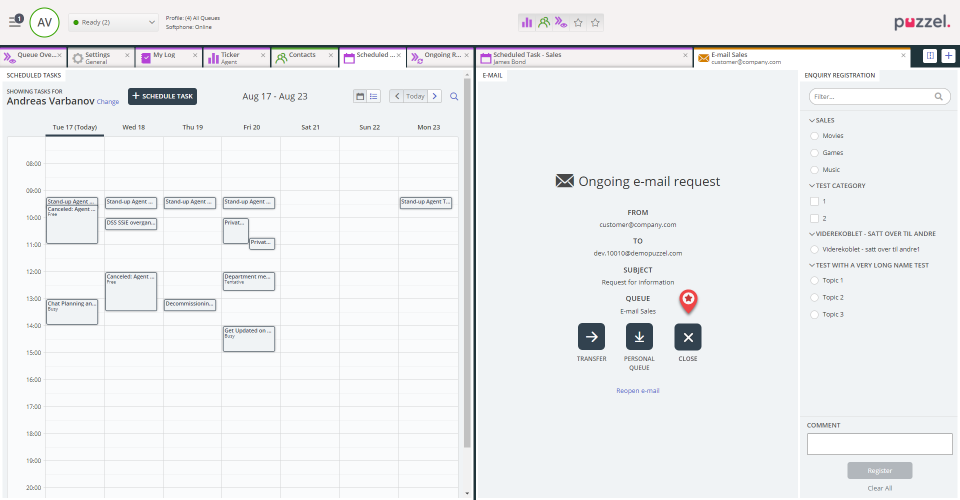 Additional Skype for Business and Microsoft Teams buttons
The Search & Transfer Tab have now the same Skype for Business and Microsoft Teams button as the Contact Tab does when searching for a user. The button will start a conversation with the selected contact in either Skype for Business or Microsoft Teams.
Bug fixes
Improved how predefined messages for written requests are added to the input field. Previously the predefined message did an overwrite of the text already written in the textarea. Now it behaves like traditional copy and paste does and no longer overwrites the existing text in the textarea.
Improved default focus when the predefined message window or the invite window is closed.
Fixed a rare bug that could close the phone tab at certain trigger events.
Fixed a bug related to ongoing calls and reloading of the Agent Application when using an external phone number.
Calendar is now also shown if a search on "All Sources" is made during a transfer dialog.
Fixed a couple of translation inconsistencies as well as the default language for some functions after a reload.