The following updates will be made to Puzzel Ticketing on 15th February 2021. These are categorised as additional features, improvements to existing and bug fixes.
Additional Features
Form and Form fields
In this release we are introducing Forms and Form fields which helps you gather more information about a specific request and filter them based on a particular support query.You can create multiple forms to suit different support requests. For example, you can create different forms with different fields for different products/services.
Ticket Forms are a pre-defined set of form fields that supports a specific support request. You can either use the form fields available in the system or create a one of your own. There are 3 types of form fields available as listed below:
    Free text
    Drop-down
Event Rules
This release of Puzzel Ticketing also contains Event rules. These are automatic rules that are triggered when a specific event occur on a ticket. You can define the events to be team, user, priority, category and organisation change and set actions to be performed automatically once the criteria is met.
Unlike the business rules that are executed on automatic ticket creation, event rules come into play when you need certain actions to be taken spontaneously on the existing tickets based on a trigger.
You can create event rules and logically group them into event groups so that it can be easily managed.

The two new features are not out of the box feature. Please call Puzzel support to enable this in your environment
Improvements
Layout change on the ticket page
To accommodate the form fields in the ticket page so that the agent can filter the tickets based on them, we have changed the layout of the ticket page. The Attributes and Form fields will now appear on the right of the screen as shown in the picture below.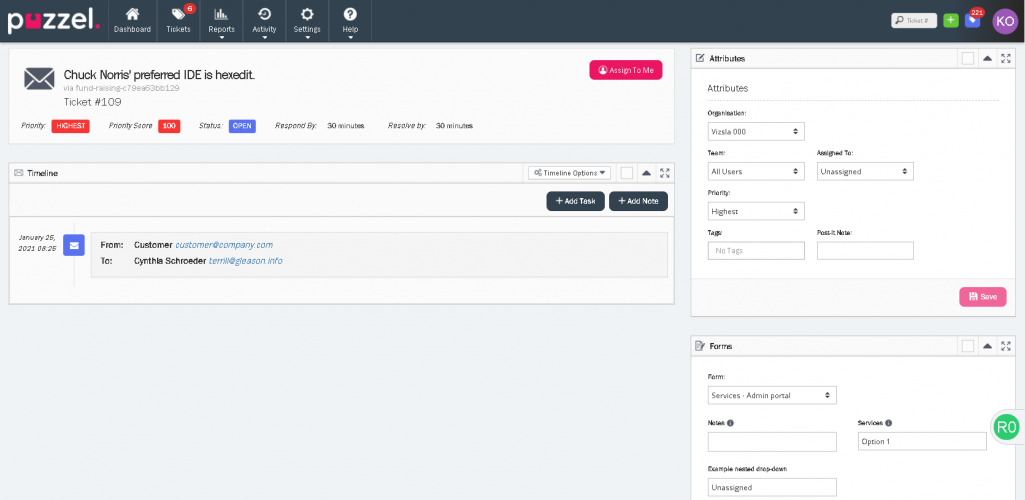 Bug fixes
The issue with the Load More button on the ticket page has been fixed now.
The issue with the submission of multiple manual tickets when Submit button is clicked repeatedly is fixed now.