The following updates will be made to Puzzel Ticketing on 20th October 2020. These are categorised as additional features, improvements to existing and bug fixes.
Additional Features
There are no additional features in this release.
Improvements:
SLA option in Tasks
SLA options such as Response Target and Resolve Target for Follow-up Tasks can be set in minutes, hours or days in the Follow-Up Task window or in the Ticket Page as shown in the pictures below.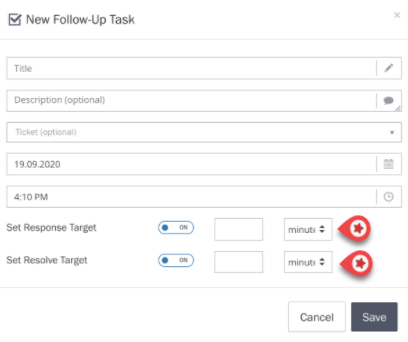 When a Follow-up Task have the SLA options enabled, an email and in-app notifications will be sent to the allocated user(s) when:
20% time remaining before:
reminder time + duration set for Response Target
completed time + duration set for Resolve Target
Expired after:
reminder time + duration set for Response Target
completed time + duration set for Resolve Target
Bug fixes:
There are no bug fixes in this release