The following updates will be made to Puzzel Ticketing on 30th September 2020. These are categorised as additional features, improvements to existing and bug fixes.
Additional Features
Reply Action Button Changes:
The style and functionality of the buttons for send and forward will change in this release with 'Send' becoming 'Send & Resolve' by default. Previously clicking on 'Send' would leave the ticket Open and it was necessary to select 'Send & Resolve' from the drop-down options.
With this release only a single click is needed with the tooltip reminding agents of the change: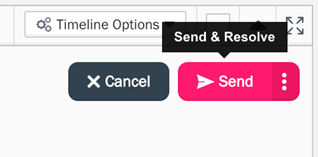 In situations where the ticket should be changed with the Send & Pending or Send & On Hold, choose from the drop down options accessed by pressing the 3 vertical dots menu: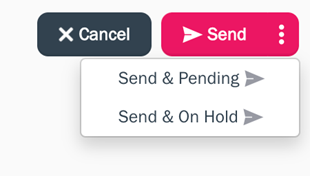 As before ticket status can be manually changed with the correct permissions.
Single Sign On/User Management
A major improvement released is single sign on/user management between Puzzel Ticketing (PT) and Puzzel Contact Centre (PCC). This removes the need to add users twice (in PCC and PT) and means that agents only have to sign in once, to PCC.
The process is:
Using API triggers as the agent accesses PT a check is made if the PCC user exists in PT,
If they do not then they are automatically created as a user at PT level with basic rights and access to the relevant team to which the PCC queue refers
SSO means there is no need to login, is done automatically
Access rights in PCC automatically adds Teams to user profile, where the PCC queues allocate work that relate to this Queue/Team
If there are any sign in issues, then SSO fallback exists linking to PT sign in page,
This is a great enhancement to the integration and omni-channel way of working
Improvements
No improvements are included in this release.
Bug Fixes
The bug fixes to be released are listed below:
        NLU tags showing in Tags, now removed.
        Reverts to previous setup where both groups and rules can be controlled.
        Removes the limit, was previously 11
        Fixes a big in Jira when linking issue to a ticket.