The following update was made to Puzzel Work Force Management on 20th of April 2021. These are categorised as additional features, improvements to existing and bug fixes.
Additional Features
Payroll – Overtime Report

In addition to the recently released Unsocial Hours Report, we now have included Overtime Report under Payroll reporting which shows the number of hours an agent spent in overtime during certain hours of the day. Furthermore, if more than a specified number of hours are accounted for in the given time range, an additional code can be specified for the extra hours. This can then be used by HR systems to compute payment rates.
For example, if a 4 hour overtime shift occurred during 15:00 23:00 (in the selected time zone) per the configuration below, this would be reported as 3 hours in code A1, and 1 hour in code X2. Only the shift hours that overlap the relevant time range are counted.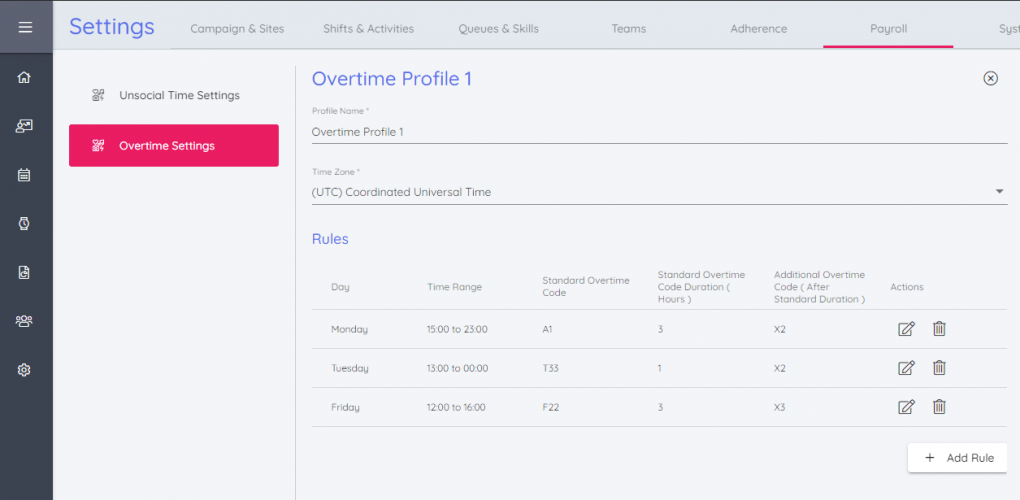 Sample report generated from the above Overtime profile is as shown in the picture below. The report can be viewed in the application or downloaded as a CSV file.

Improvements
A footer has been added in the login screen for links to company website, Help Centre, and Privacy policy

Sorting by Username and Shift in the People screen is made possible
Exposed public API methods for

Team settings
Agent assignments to campaign, site and team

Added pagination to Shift swap requests
While adding agent holiday rollover date, it is now set to the 1st day of next year by default instead of a blank field.
Bug Fixes
Fixed Schedule Job screen's Week Commencing date format to be consistent with the rest of the site (yyyy-MM-dd)