The following updates will be made to Puzzel WFM on 17th November 2020. These are categorised as additional features, improvements to existing and bug fixes.
Additional Features
A new global filter has been added restricting resource planners to view only agents of the site they have access to.This will prevent them from viewing or editing agent schedules from other resource planners.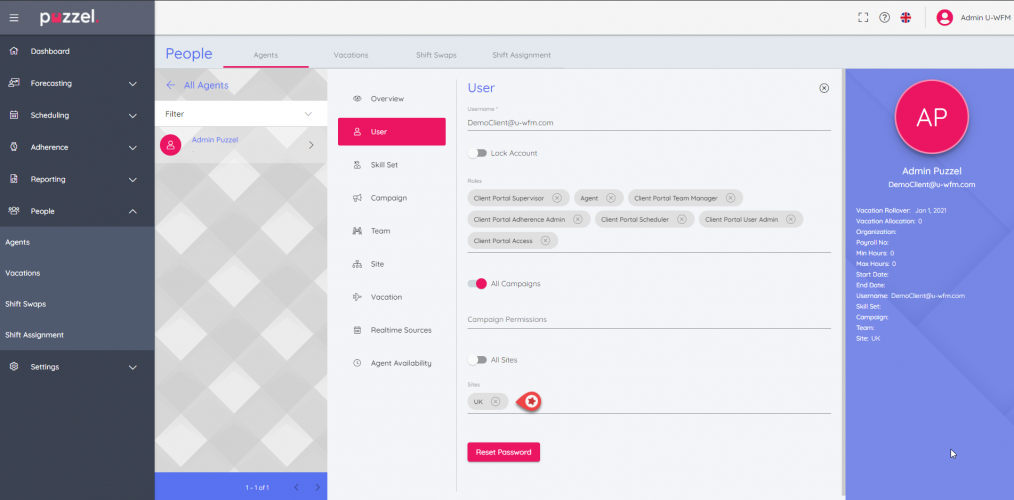 The feature can be used where a contact centre outsources some of their work to agents to a different company and wants their resource planner to only see end edit their own agents. Affected screens are Schedule, Schedule Overview, Activity Calendar and Adherence screens.
Bug fixes
Fixes in Planner Portal
Fixed issue where sometimes lunch activities not accounted for correctly when calculating holiday used
Added whitespace trim when creating new users to prevent copy/paste from Excel causing leading or trailing space to be included in the username
Fixed schedule overview issue not loading when one of the agents didn't have a campaign assigned
Fixed deleting users not working when they had notifications.
Fixed wrong dates on top of schedule overview in some locales
Fixed adherence scroll position on past dates and display of authorised exceptions
Fixes in Agent Portal
Fixed agent should not see absence/holiday detail in overview screen
Fixed wrong dates on top of schedule overview in some locales
Fixed schedule vertical view will now show shift swap icon
Fixed inclusion of unpublished shifts in schedule overview