This article provides an overview of changes and additional features included in the release for the evening of February 7th, 2023. 
The changes made in this release concern Puzzel Contact Centre, Puzzel Admin Portal, Puzzel Agent Application and Puzzel Workforce Management.
Note that some of these features may require a customised set-up before they can be activated. In addition, some features may have a set-up and/or monthly cost element associated to it. 
Puzzel Contact Centre
Puzzel Agent Application
Bug fixes & improvements
Calling out from an eTask with a phone number now generates a related session id. This is used to link a call-out to a specific eTask for Archives and Raw Data.
Fixed a bug when sending email from the Switchboard tab, that could result in that the email subject field automatically being filled with the contact name.
A minor graphical bug for the Contacts tab is now resolved.
Puzzel Admin Portal
Performance Management
We introduced new base metrics to the existing set, allowing you to create more KPIs based on these to track in performance management.
Total request Volume
Average Handling Time
Answer Rate
Customer Satisfaction
Daily Average Request Volume
Average Speak Time [NEW]
Average On Hold Time [NEW]
All base metrics are available under the KPI calculation section when creating KPI configurations. We provide some default values to get started and you can modify these to suit your needs.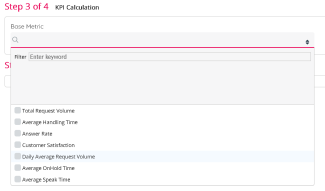 Puzzel Workforce Management
Bug fixes & improvements
The list of scheduled holidays on the agent's holiday overview will now show all booked holidays from the last holiday year onwards

Shift Swap requests will now require 2nd agent approval

The FTE Campaign Setting is renamed to "Weekly FTE Hours"

Email queue service goals are shown in all units (hours, minutes & seconds)

Activity Template details are retrieved from a public API

Team Name on Booked Vacation Report now reflects the agent's team at the time of the holiday

Translations for agent request notifications have been added

The Source Week Calendar failed to display in the Forecast Wizard when source data contained many huge AHT values - this bug is fixed

A bug causing Meetings to show as Text on Adherence actual timeline is fixed