This article provides an overview of changes and additional features released on January 25th, 2022 on Puzzel platform.
The changes made in this release mainly concern the Puzzel Contact Centre (Admin Portal and Agent Application), Puzzel Case Management, and Puzzel WFM
Note that some of these features may require a customised set-up before they can be activated. In addition, some features may have a set-up and/or monthly cost element associated to it.
Agent application
Improved calendar for Scheduled Tasks
Prior to this release the Scheduled Task Calendar only supported the graphical interface for 30 minute intervals. It now supports 15 minute intervals to better match the Scheduled Task function as well as the Outlook calendar sync. Another improvement has also been made to how the Scheduled Task Calendar displays multiple overlapping Tasks and Meetings.
Softphone improvements
Improved the stay alive signalling to keep the Softphone connected and online when the browser/tab goes into passive mode when not in use.
Added a new function to enable Quality of Service (QoS) for Softphone network traffic. Read more about it here: WebRTC Quality of Service
Other improvements
Teams integration will no longer show disabled or removed users in the search result. This behaviour is the same one as expected in Microsoft Teams.
Fixed a bug where the active event in the calendar was no longer highlighted.
Fixed selection area for checkboxes and radio buttons to be more user friendly.
Moved the scrollbar for predefined chat messages into the modal itself to make it more user friendly.
Moving the Scheduled Task Calendar tab no longer causes the view to toggle. It will stay on the current selected view.
Agent Assist
Sentiment score for voice interactions in interaction history
Interaction history will now include sentiment scores for voice when transcription is enabled. The sentiment icon presents the aggregated average score from the analysed conversation of the caller. This feature requires the voice transcription addon module which provides a transcript based on the call recording.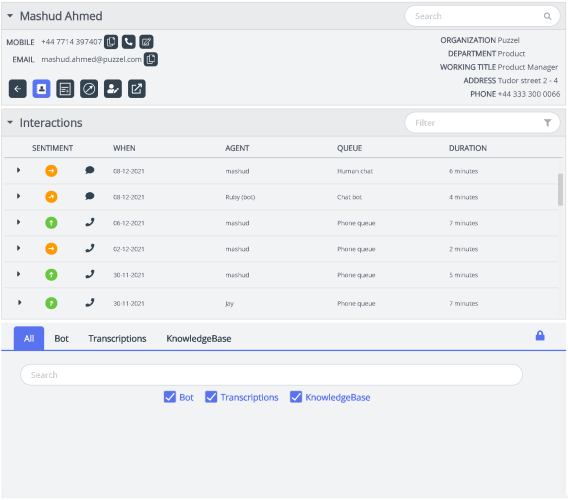 Puzzel Case Management
New Manual Ticket Creation - Customer Assignment
When a new manual ticket is created and a conversation is started via a channel within Puzzel Case Management.  The ticket will be immediately linked to the customer record.  If no customer record currently exists, a record will be created.  Previously the customer assignment only occurred upon the first inbound message received into the ticket.
Puzzel Case Management - Puzzel Contact Centre Integration
Previously when changing a Team name in Puzzel Case Management, it would also change the access point address being used for the integration between the Team and a Puzzel Contact Center queue.  This would cause the integration to break and required Puzzel engineers to resolve the issue.  A better solution has now been put in place.  The access point will now remain static meaning you can change a Team name as required without affecting the integration.
Tickets re-indexing with over 100 contents
Previously if a ticket had over 100 contents, it would not re-index meaning it could not be found when searching for it on the Tickets page.  This has now been resolved and tickets with over 100 entries can now be found in searches.
Escape strings when sending JSON via Webhooks
Enhancement when sending JSON via Webhooks using the Outbound Integrations feature.  Strings will be escaped to prevent malformed JSON from being sent.

WFM Bug fixes
CV differs between forecast stats & forecast chart Dashboard widgets
Holiday paid hours incorrect for shifts with multiple lunches
Holiday requests can't be found when the last requested day is declined
Agent screen doesn't show the site that the agent belongs to
Forecast table widget error when no campaign is selected
Overtime counted as productive even if covered by unproductive activity
Adherence Agent Popup Info Showing Agent's internal ID rather than AgentID user field
Queues with ASA service goal don't show on Schedule screen queue selector