The changes made in this release concern Puzzel Contact Centre, Puzzel Agent Application and Puzzel Case Management.  
Note that some of these features may require a customised set-up before they can be activated. In addition, some features may have a set-up and/or monthly cost element associated to it. 
Puzzel Agent Application
Improvements to the Widget API for opening chat invite and predefined message dialogs
Puzzel Case Management

Message ID Search Capability
To simplify your search for a ticket linked to a specific email message, we have now rolled out a feature enabling you to locate a unique email message ID (available in the raw email headers). This will allow you to effortlessly identify which ticket corresponds to a particular email.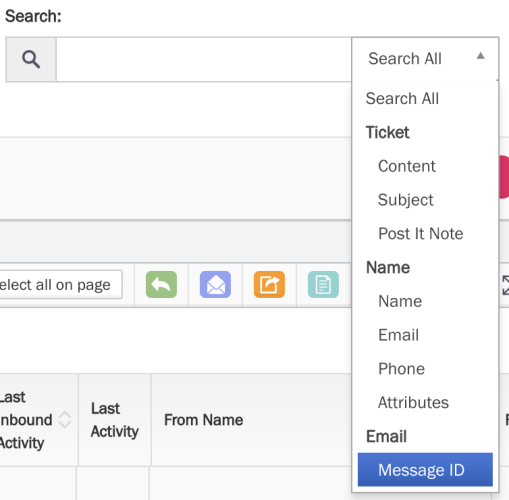 Searching for a 'Message ID' will only work for emails received from 26th July 2023.  Any emails prior to this date will not have a 'Message ID' indexed.
Security & System Enhancements
The 'new enhanced view for Puzzel Contact Centre' feature, previously missing bulk update buttons, now includes them for easier access in the new view.
We have restored the ability to carry out bulk updates for manual entry categories.
The 'Citation Removal logic' has been abolished to prevent poorly formatted inbound emails from incorrectly displaying content or signatures in the Puzzel Case Management interface.
We have removed the 'sequential order logic' from Puzzel Contact Centre integration, rectifying a known issue that could cause a problem request to disrupt proper queue syncing for tickets.

We've implemented an integration with 'Artificial Intelligence' using OpenAI (ChatGPT), which once enabled, provides three functionalities:

a. Automatic language identification
b. Automatic ticket prioritisation
c. Draft response generation for agents, based on the initial inbound email

Refer to the integration guide here: Integration Guide Link
To utilise this feature, you must request for 'Artificial Intelligence' to be activated on your Puzzel Case Management account by submitting a request at help.puzzel.com. This feature will be activated on your account at no cost.
Opting for the integration between Puzzel Case Management and OpenAI implies your consent to share inbound message content and associated metadata with a third party. Understand that once the data is transferred to the third party, Puzzel can no longer exercise control or provide protection for it. Consequently, Puzzel will not bear any responsibility or liability for how this data is used, misused, or managed post-sharing. It is strongly advised that you review the third party's data management and privacy policies prior to enabling this integration. Your decision to proceed indicates your understanding and acceptance of these conditions.