This article provides an overview of changes and additional features included in the release of May 2nd, 2023.
The changes made in this release concern Puzzel Contact Centre, Puzzel Admin Portal, Puzzel Workforce Management. 
Note that some of these features may require a customised set-up before they can be activated. In addition, some features may have a set-up and/or monthly cost element associated to it. 
Puzzel Contact Centre
Puzzel Admin Portal
On the page Real-time -> Queue overview -> Queue details for a queue with tasks added using API RequestEtaskAdd, will also show the task's URL in the popup window with the task's details.
In addition, there are several internal fixes in preparation for Puzzel ID.
Puzzel Workforce Management
Must Work Day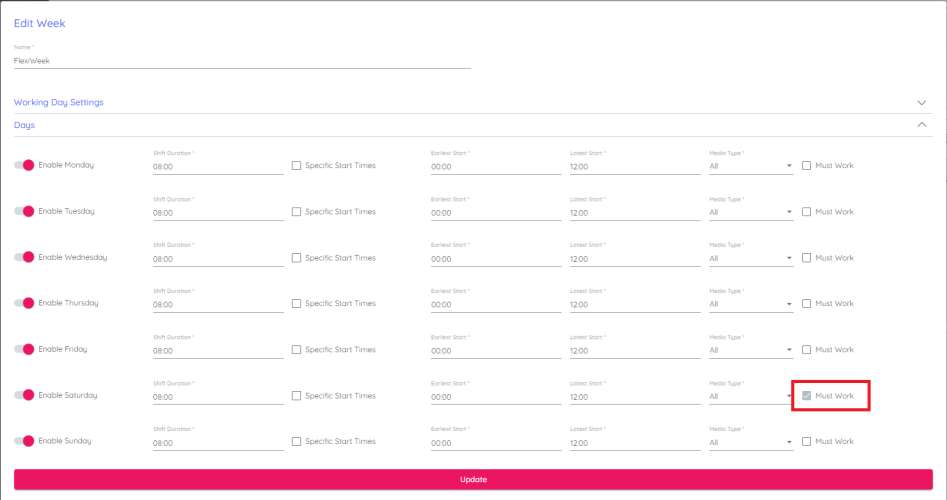 When defining a shift pattern, you can indicate that a certain shift day must be scheduled.
This allows you to:
Introduce a level of fairness (for example, fix the weekends that agents will work on) in to shift patterns that already allows the schedule engine to decide which days off the agent should have, or
Introduce flexibility by allowing the schedule engine to decide the days off, where the working days & days off are currently fixed to ensure that certain shifts are assigned
If you have multiple shift weeks defined with the same rotation week number, you may define more than 1 shift day with Must Work set on the same day of the week.  In this case, the schedule engine will chose between the shift days with Must Work set. 
Improvements & Bug Fixes
Remove old dashboards page
Month Schedule - Allow to close agent filter dialog without making any changes
Month Schedule - Return to page 1 when agent filter is modified
Month Schedule - Allow items per page to be set
Month Schedule - indexing of filter entries is preserved even after a filter is deleted and replaced
Dragging activity to post 24:00 of the shift doesn't work
No Help button for Single Sign On users
Loading spinner not pulsing
Export Scheduling queue stats does not work
Unable to reorder tabs on dashboard
Shift day changes not reflected in shift pattern overview until after refresh
OverUnder incorrect when an activity overlaps overtime