This article provides an overview of changes and additional features included in the planned releases of May 30th and May 31st, 2023.
The changes made in this release concern Puzzel Contact Centre, Puzzel Case Management and Puzzel Workforce Management. 
Note that some of these features may require a customised set-up before they can be activated. In addition, some features may have a set-up and/or monthly cost element associated to it. 
Puzzel Contact Centre
These changes are part of the planned release of May 30th.
Puzzel Agent Application
Agent information will be updated only through the Puzzel Admin Portal following the planned release. This change means agents will no longer be able to edit their name, e-mail or mobile number directly on the Puzzel Agent Application (under Settings). 
Puzzel Admin Portal
As per the change mentioned above re the Puzzel Agent Application, the "Allow agent to edit Name, Email and Mobile" property in the Admin Portal will be set to False and consequently removed.  
Puzzel Case Management
These changes are part of the planned release of May 30th.
API generated tickets - Associated request in Puzzel Contact Centre queue
When an agent is presented with a new ticket to work on within the Puzzel Contact Centre, where the ticket was generated via an API request.  The resultant contact centre request will now show the customers email address or phone number (if known) instead of autogenerated-@tenantname.logicalware.com. As well as being clearer to an agent who the customer is, this will enhance linking and reporting of customer records in agent assist, media archive and raw data.
Improvements & Bug Fixes
Solved an intermittent issue when deleting a suspended user, where the admin user would be presented with a 500 error message.
Fixed an issue where Net Promoter settings were appearing in two separate configuration pages.
When a ticket status changes to 'Error', this status change will now be recorded on the Timeline History.
Solved an issue where animated gifs which were failing to save as attachments due to a thumbnail generation error.
Improved Danish translation throughout the application. A further enhancement will be forthcoming in a later release.
Fixed an issue where scheduled jobs (such as Returning Open/On-Hold/Pending tickets back to the team at X time) was not respecting the change to Daylight Savings time.
Fixed an intermittent issue where an automated 'Customer Follow-Up' messages were not being sent as per the schedule defined in the inbound rule.
Updates to API documentation
Puzzel Workforce Management 
These changes are part of the planned release of May 31st.
A button to copy a shift week into a new rotation week has been added to the shift template.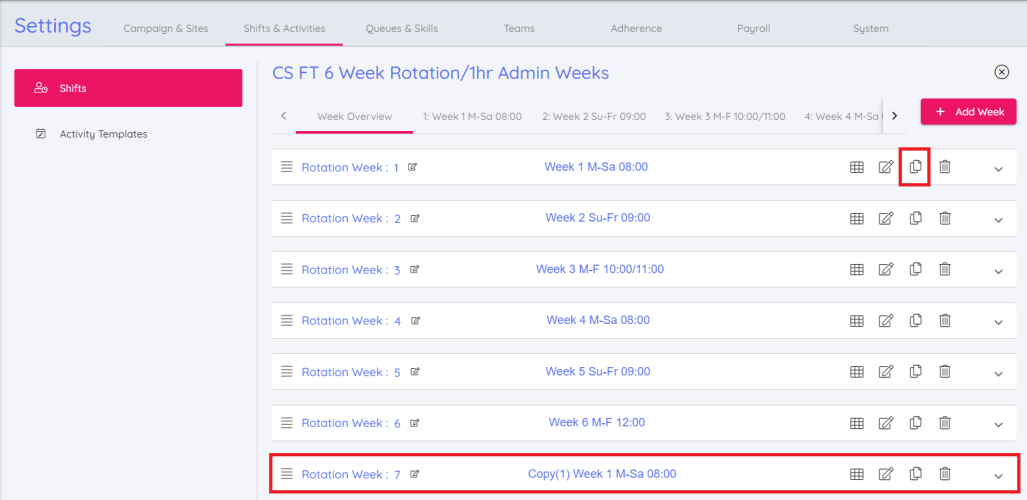 A bug caused agents to see the page heading for preferred start times, even when their campaign has this option disabled. The fix will hide the tab properly.