This article provides an overview of changes and additional features included in the release implemented in the evening of November 29th, 2022.
The changes made in this release concern the Puzzel Contact Centre and Puzzel WFM.
Note that some of these features may require a customised set-up before they can be activated. In addition, some features may have a set-up and/or monthly cost element associated to it.
Puzzel Contact Centre
Agent Application
Display Email/eTask content from Agent Assist interaction history
When Agent Assist fetches the interaction history of a contact a list of interactions are displayed together with the related information of individual interactions. Previously when an email/eTask interaction was displayed there was no way of seeing the content of the historical interaction. We have now added a new button called "Display content" that once clicked it will open the URL attached to the email/eTask request. The URL can be configured to be opened up within the Puzzel Agent Application or in a separate browser tab.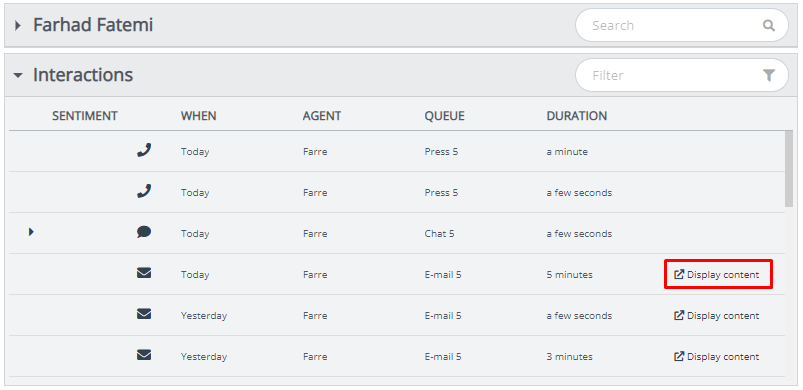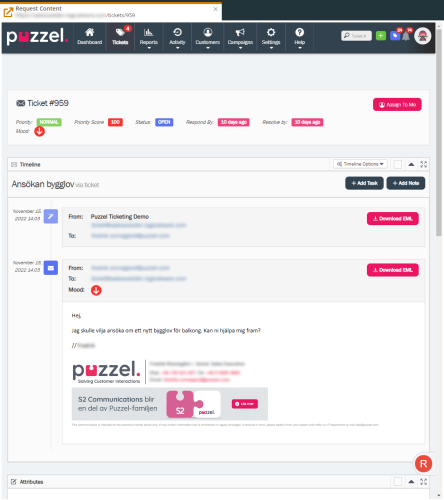 To select which URLs that should be opened within the Agent Application please navigate to the Admin Portal and find the property "Filter e-mails by URLs starting with... (comma-separated)" under Widget -> Widget Configuration -> Agent Assist.

Bug Fixes & Improvements
Agent Assist will no longer try and display a contact card if a caller's number is marked as secret or unknown
An issue causing the loading spinner to spin indefinitely for the Agent Assist interactions is now fixed
Admin Portal
Bug Fixes and Enhancements
Users with access to page Catalog – Administration will from now on see a new accordion: Field mapping
The page Services – Queues contains Display queues and System queue settings. To open the page and expand Display queues and System queue settings should from now on go faster for customers with hundreds of queues.
The property Enable menu Services – Silent monitoring shown on page Users – Products under Admin Portal menu can from now on be turned on for individual users or user groups even if it is off for the Company level, to simplify the access control. This might be easier than having the property on for the company level off for the user groups that should not have access.
Fixed an issue related to Archive search for emails with extremely long time in queue.
Puzzel Workforce Management
PWFM Bug Fixes & Enhancements
Added Created By property to Schedule Job information
Adherence exception timeline applies incorrect tolerance setting
Notes from Activity Calendar not shown on Schedule
Scheduled Lunch shows as Support in the Adherence
Schedule Calendar's Campaign Week Status is different to Campaign Summary Widget
Exporting Forecast uses Windows Time Zone and results in incorrect interval time stamps