This article provides an overview of changes and additional features released on September 6th, 2022. The changes made in this release concern Puzzel Case Management, Puzzel Contact Centre and Puzzel WFM. 
Puzzel Case Management
Re-assign tickets when deleting a Team
Upon clicking the 'Team' delete button, the user will be presented with the black warning banner with new messaging and the option to select a new team from a drop down menu. This will re-assign any tickets currently assigned to the team being deleted which are in the following statuses (Open, On-Hold, Pending, Resolved, Error).
This will allow system users to continue to find these tickets when searching in the tickets index page.  Any of re-assigned tickets which are re-opened will continue to be pushed into an integrated Puzzel Contact Centre queue (if applicable).
Bug Fixes and System Enhancements
Bug fix, where double clicking the save button when creating a new channel, resulted in two channels being created with the same name.
Bug fix, where using the 'collect' button directly within Puzzel Case Management application, did not clear the associated ticket request from the Puzzel Contact Centre queue.
Bug fix, when using the 'Bulk Response' feature, replies were being sent to the requesters (original senders) email address instead of the 'Reply-To' address when it was included in the message header.
Bug fix, 'Quote this message' and 'Download EML' buttons were out of align in timeline overview if more than 3 X CC email addresses existed.
Puzzel WFM
Bug fixes
Automatic restarting of statistics recalculation engine when stuck jobs are detected.
Puzzel Contact Centre
Improvements and bugfixes
Callback time-to-live increased from 48 to 72 hours
Today, when a caller orders callback in queue, the callback happens when the caller is first in queue. If all agents leave for the day when there are callbacks still waiting in queue (not recommended!), the callbacks will be done the next morning when agents log on to queue, unless the administrator has deleted the callback requests from the Queue details page in the Admin Portal. Today, the max time to live for a callback request in queue is 48 hours before it's deleted. Since there might be special cases where a callback ordered on a Friday should be done on Monday, we increase the max time to live to 72 hours. Please note that if a callback call is done on a later day than when the callback was ordered, statistics gets a bit confusing.
Dialler bug-fixes
In very rare cases, a Dialler rescheduled call was not done when the campaign was disabled at the rescheduled time. This bug is fixed.
In a few cases, a Dialler contact was not marked as answered even if a call to the contact was answered. This bug is fixed
Call recording of consult calls - improvement/change now implemented
In the July 26th 2022 release notes we announced that we planned to do a small change/improvement for call recording related to consult calls. The described change has now been implemented as the new standard.
More details on how it works can be found in the Call recording article.
Consumer facing knowledgebase
A public facing knowledgebase is now available as an add-on. We have introduced the ability for selected categories, sections and articles to be marked for public access. The knowledgebase management system in Puzzel Admin now allows you to select specific content to be exposed in the consumer interface using a new set of access group policies.
Authoring public content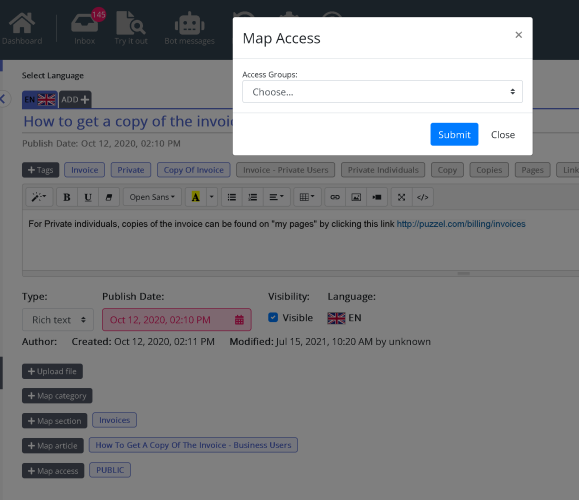 Enable Public API for your account
The public facing API will be enabled for customers that purchase the consumer facing knowledge base.
To use the Customer facing knowledge base customers will need to set up html templates to retrieve data from the API from their public facing web pages. Puzzel will provide sample HTML files and scripts that customers can use to retrieve and present data from the internal knowledge base on their web pages. In the API data can be fetched based on your knowledge base structure for content that is marked for public access. 
For customers with Puzzel Digital Engagement products there are customizable contact banner templates available which can be added to their digital engagement solution and these will be presented to web visitors according to defined Digital Engagement rules in their account.
The html templates and Digital Engagement banners can be styled to fit the HTML and CSS look and feel of their web pages.
Consumer facing knowledge base, large example view: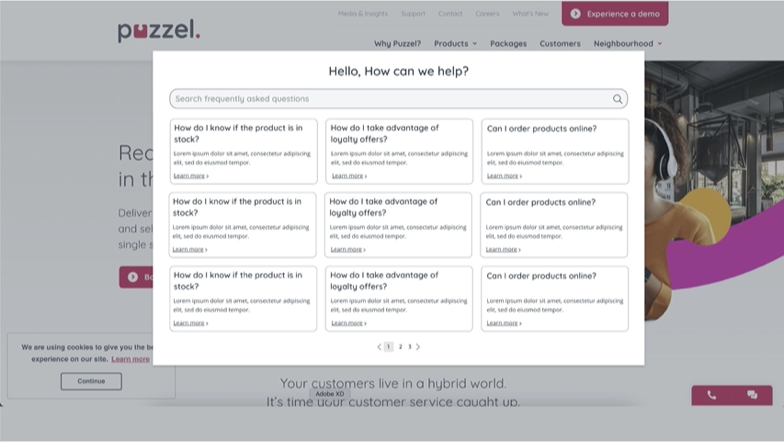 Consumer facing knowledge base, small banner implementation view: