Integration med Jabra og understøttelse af headsetbevægelser
Den softphone, der er integreret i Puzzels agentapplikation, understøtter Jabra-headsetbevægelser for følgende funktioner:
Besvarelse af opkald
Afslutning af opkald
Justering af lydstyrken
 
Knappen Slå lyd fra på enhederne udløser ikke en handling i Puzzel, f.eks. at sætte henvenderen på hold.
Efter anbefaling fra Jabra har Puzzel udviklet og testet integrationen med følgende  enheder:
Jabra Engage 75 (DECT)
Jabra Engage 50 (Ledningsforbundet)
Jabra Evolve 75 (Bluetooth)
Jabra Evolve 40 (Ledningsforbundet)
... men den fungerer sandsynligvis også på andre enheder.
For at integrationen kan fungere, skal to softwareprogrammer være installeret på agentens PC (brugeren skal have tilladelse til at downloade og installere software på PC'en):
Jabra Chrome-udvidelse
MSI til enhedshåndtering
Jabra Chrome-udvidelsen downloades direkte via Chrome-browseren. Du kan søge efter "Jabra Browser Integration Extension" i Chrome webshop eller klikke på dette link:  https://chrome.google.com/webstore/detail/jabra-browser- integration/okpeabepajdgiepelmhkfhkjlhhmofma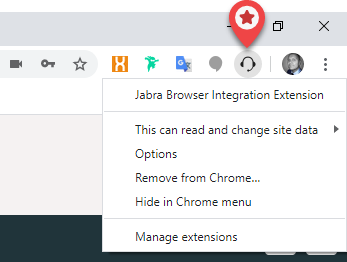 MSI til enhedshåndtering håndterer kommunikationen mellem agentens headset og Chrome-browseren og kan downloades via Jabras GitHub-websted:                                                                                                                                                                                                
https://gnaudio.github.io/jabra-browser-integration/download/JabraChromeHost2.0.2.msi
Oplysninger fra Jabra: Hvilke data der overføres afhænger af, hvilke funktioner der kaldes i Jabra-biblioteket, men generelt overføres kun data om hændelser, der signalerer tilstandsændringer, og muligvis værdierne for headsettets indstillinger. Jabra oplyser, at de ikke bruger oplysninger såsom enhedernes serienumre i de nuværende komponenter.                                                                                               
Når Chromehost startes, oprettes desuden en internetforbindelse til Jabras backend for at søge efter opdateringer til deres kommunikationsprotokoller mv. Det betyder, at Chromehost muligvis downloader nogle filer (som gemmes i den lokale mappe med brugerens profil i operativsystemet). Disse filer identificerer imidlertid ikke brugeren eller headsettet på nogen måde.
Puzzel understøtter integrationen, men er ikke ansvarlig for software udviklet og leveret af en tredjepart.