Jabra integreren en ondersteuning voor werken met een koptelefoon
De softphone, die wordt toegevoegd aan de applicatie voor vertegenwoordigers van Puzzel, ondersteunt Jabra headset gestures voor zowel Google Chrome als Microsoft Edge met de volgende functies:
Oproepen beantwoorden
Oproepen ophangen
Volume aanpassen
De mute-knop op apparaten activeert geen Puzzel-acite, zoals de beller in de wacht zetten.
Puzzel heeft, na aanbeveling van Jabra, de toepassing ontwikkelt en getest met de volgende apparaten:
Jabra Engage 75 (dect)
Jabra Engage 50 (Cord)
Jabra Evolve 75 (bluetooth)
Jabra Evolve 40 (cord)
... maar waarschijnlijk werkt het ook op veel andere apparaten.
Er moeten twee softwares worden geïnstalleerd op de PC van de vertegenwoordiger om de toepassing te laten werken:
Jabra Chrome Extension
Jabra Chrome Host
Let op dat de gebruiker toegang nodig heeft om de software op de PC te downloaden en te installeren.
Jabra Chrome-extension installeren
De Jabra Chrome Extension kan direct vanuit de Chrome browser gedownload worden. U kunt zoeken naar "Jabra Browser Integration Extension" in de Chrome Web Store, of deze link volgen:
https://chrome.google.com/webstore/detail/jabra-browser-integration/okpeabepajdgiepelmhkfhkjlhhmofma
Na installatie zult dit icoon met headset in het rechterbovengebied moeten zien.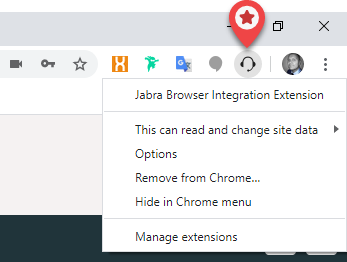 Wanneer u de browser Microsoft Edge gebruikt, kunt u dezelfde extentie vanuit de Chrome Web Store installeren, maar u moet extenties van andere winkels toestaan in Edge. Ga, in Edge, naar dit adres " edge://extensions/ " en klik op de volgende twee elementen.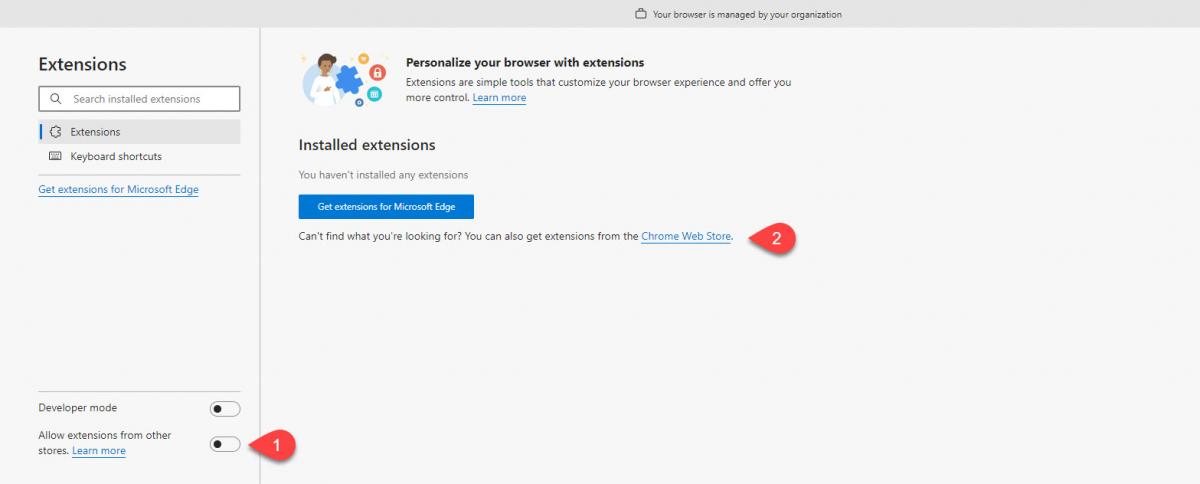 Zoek naar "Jabra Browser Integration Extension", kies "aan Chrome toevoegen" en bevestig wanneer u wordt gevraagd om "Jabra Browser Integration Extension" aan Microsoft Edge toe te voegen.
Jabra Chrome Host installeren
De Jabra Chrome Host wordt gebruikt voor apparaatmanagement en verwerkt communicatie tussen de headset van de vertegenwoordiger en de Chrome browser. De host kan via de site van Jabra gedownload worden:
https://developer.jabra.com/site/global/software/integration-components/browser/index.gsp
Kies en installeer de juiste versie van de Chrome Host afhankelijke van of u gebruik maakt van een Windows of Mac PC: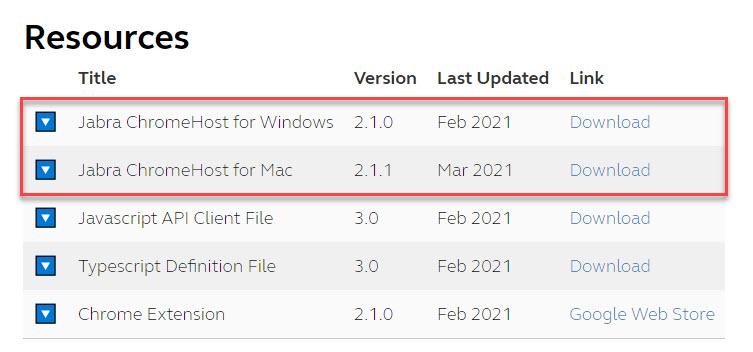 Informatie van Jabra
Verzonden gegevens zijn afhankelijk van de functionaliteit die genoemd worden in de bibliotheek van Jabra. Over het algemeen gaan gegevens, die verzonden worden, alleen over statusveranderingen of waarden van headsetinstellingen. Jabra zal zelf deze informatie, bijv. serienummers van apparaten, niet gebruiken.
Bij het instellen van de Chrome Host zal een internetconnectie opgezet worden met de backend van Jabra om updates te checken voor bijv. communicatieprotocollen. De Chrome Host zou hierbij enkele bestanden kunnen downloaden (die worden opgeslagen op het lokale werksysteem van de gebruiker). Deze zullen op geen enkele manier iets van de gebruiker of de headset identificeren.
Puzzel ondersteunt de integratie, maar is niet verantwoordelijk voor de ontwikkelde software en geleverd door een derde partij.