Terugkerende activiteiten creëren
Er zijn manieren 2om terugkerende activiteiten toe te voegen.
In het scherm Schema
In de Activiteitenkalender
Scherm scherm
1. Klik met de rechtermuisknop op de tijdlijn van een agent.
2. Voer het type activiteit in, het begin en de duur van de activiteit.
3. Om de activiteit te laten herhalen, vinkt u het vakje voor "Dupliceer Activiteit" aan
4  Kruis de vakjes aan voor welke dagen u de activiteit gedupliceerd wilt hebben.
5. Voer de datum in waarop de activiteiten moeten stoppen.
6. Klik op Opslaan.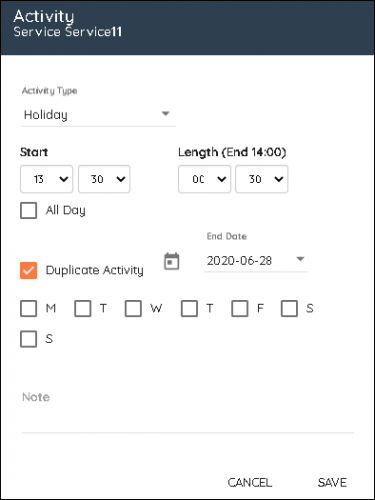 Activiteitenkalender
Klik met de rechtermuisknop op de datum vanaf wanneer de activiteit begint
Kies de activiteit uit de dropdown box, de begintijd en de duur. Voer een notitie in indien nodig. Klik opVolgende
Kies de agent of agenten die aan de activiteit moeten deelnemen. Er kan gebruik gemaakt worden van zoeken en filteren
Klik op Volgende
Klik op Toewijzen om de activiteit toe te voegen of vink het vakje Terugkerend aan
Kies om de activiteit te herhalen met een bepaalde frequentie voor Dagen, Weken of Maanden
Kies de einddatum.