Om e-mail/e-task verzoeken te ontvangen, moet u ingelogd zijn met een profiel dat e-mailwachtrijen bevat. Wanneer u een e-mail ontvangt, zal het verschijnen in een nieuw tabblad van uw applicatie. U kunt nu kiezen om te accepteren of af te wijzen.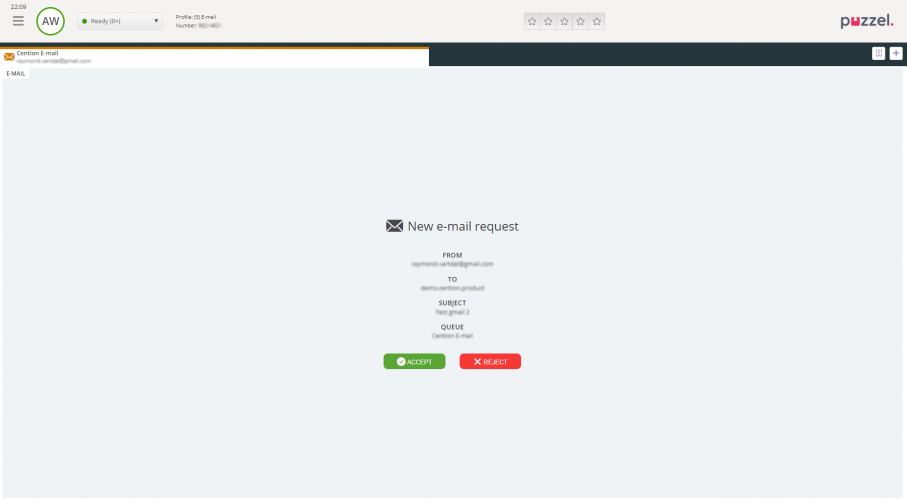 Als u het verzoek afwijst, wordt het teruggeplaatst in de wachtrij en aangeboden aan een andere vertegenwoordiger. Als u het accepteert, wordt de e-mail/e-task, waar het verzoek naar verwijst, geopend in een nieuwe tabblad op uw browser. Als u een andere e-mail/e-task aangeboden krijgt, zal deze openen in een ander tabblad in de applicatie.
E-mail/etask Actieknoppen
Het e-mail/e-task-venster in de applicatie heeft een aantal functies om u te helpen tijdens de sessie.
| Icoon | Beschrijving |
| --- | --- |
| | Doorsturen: U kunt een e-mail/e-task naar een andere vertegenwoordiger of wachtrij doorsturen. Tijdens het doorsturen kunt u kiezen om een comment te plaatsen die de ontvangende vertegenwoordiger kan zien. |
| | Persoonlijke wachtrij : Indien u eerst met andere dingen aan de slag wilt gaan, kunt u e-mail/e-task verzoeken  in uw persoonlijke wachtrij plaatsen. U kunt op ieder moment de persoonlijke wachtrij openen en verder gaan met de verzoeken die zich daar bevinden. |
Een e-mail/etask-verzoek beëindigen
Een e-mail/e-tast verzoek wordt beëindigd wanneer u als vertegenwoordiger het verzoek sluit door op het pictogram X in de rechterbovenhoek van de het tabblad "Verzoeken" te klikken.