Om oproepen te ontvangen, moet u ingelogd zijn met een profiel waarmee u verzoeken van één of meerdere telefoonwachtrijen binnen kunt krijgen. Wanneer u een oproep ontvangt, zal het tabblad "Oproepen" automatisch tevoorschijn komen en uw status zal veranderen naar "Verbinden". De telefoon waarmee u ingelogd bent, zal overgaan (ingestelde tijd kan variëren van operator en telefoontype). Een oproep beantwoorden wordt gedaan op het telefonische apparaat.
Wanneer u met Softphone bent ingelogd, zal de knop "accepteren/afwijzen" tevoorschijn komen in het verzoektabblad en de header. Indien u automatisch antwoorden heeft ingesteld, zal de oproep automatisch geaccepteerd worden.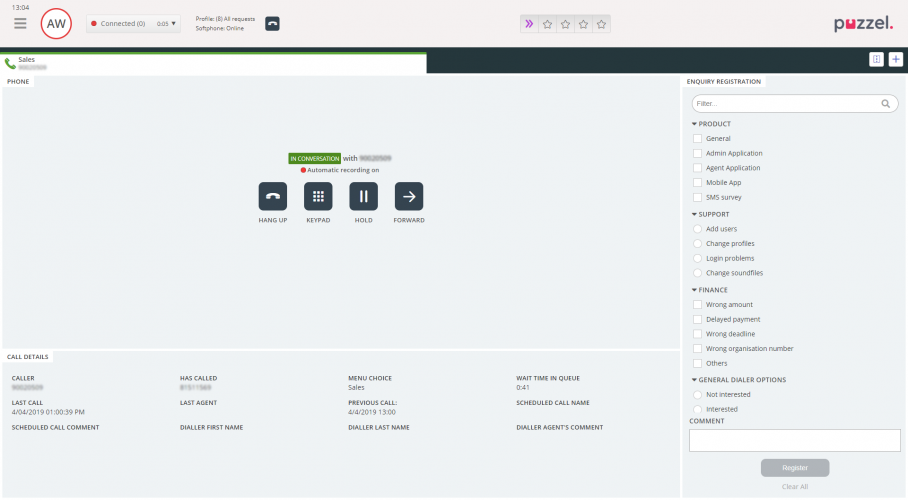 Wanneer u een oproep accepteert, zal uw status veranderen naar "Verbonden".
Indien geactiveerd, zal u relevante informatie over de beller of de oproep zelf kunnen inzien in de widget "Oproepdetails". Deze informatie is customised en verschilt per situatie. Zelfs als de informatie gewoonlijk statisch en het systeem gegrond is, kan Puzzel relevante informatie van externe bronnen verkrijgen en ze laten zien in dezelfde widget. Wanneer verzoekregistratie is geactiveerd, wordt dit ook getoond in het tabblad, zoals u in het voorbeeld hierboven kunt zien.