Call visualisation in Puzzel's Archive
The reason for this chapter is to explain possible differences between the detailed call information found in Raw Data and what you might see in the Archive in Puzzel's Admin Portal.
The Puzzel Archive gives a simplified illustration of the calls.
The user can search for a call (email or chat) and see a simplified graphical illustration of what happened and listen to recording(s) in this call (if any).
In the Archive's call graph, we shown one «status» at a time for a call (=Call-id). A call goes through none or more Menus, none or more Queues and has none or more Conversation events and possibly a consult part (or more).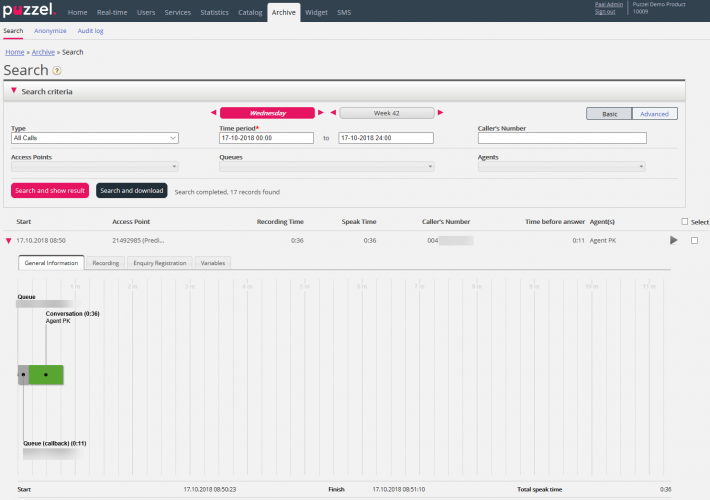 •    Conversation events with result busy/no answer/timeout are not shown in Archive
•    Only speak-time for Conversation events are shown (not connecting and wrap-up)
•    For consult calls (2 conversation events partly overlapping in time) we show the consult part separately in the Archive (see illustration)
•    For Callback in queue…
        - the Archive only shows the time the agent and the caller were joined as Conversation time (see illustration)
        - the Archive shows queue time for the time the caller is not "on the line" (the queue event stops when caller exits the queue to order Callback)
•    Conversation events for Silent monitoring/Listen in calls (type 'l') are not shown
Callback in queue in Archive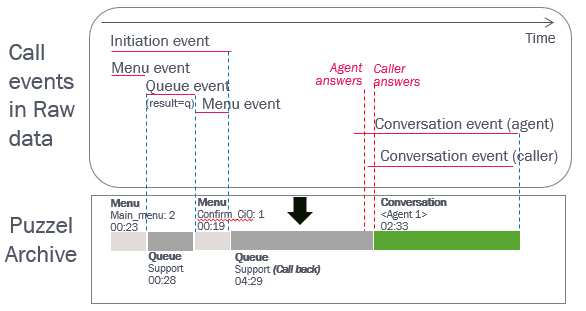 Consult call in Archive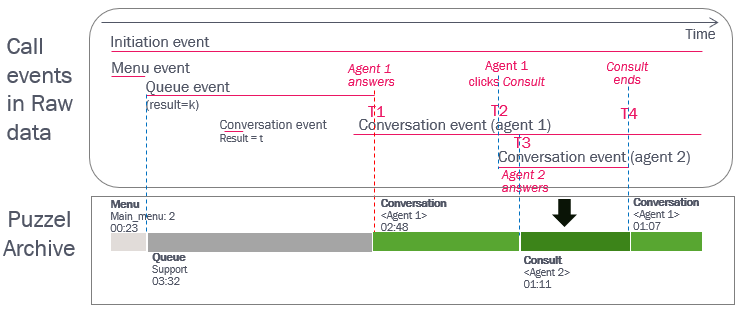 More details about the Archive can be found in the Admin Portal User Guide on help.puzzel.com.