Silent Monitoring / Listen in
If configured in the Puzzel solution, supervisors can order Silent monitoring/Listen in on agent calls. The supervisor "orders" Silent Monitoring through the Puzzel Admin Portal, and the agent is notified in the agent application (and a biiip on the phone) when a monitoring call is connected, if notification is configured.
When the agent answers the call, the Puzzel platform calls the supervisor's/listener's phone number. The call to the listener may result in answer, timeout or busy.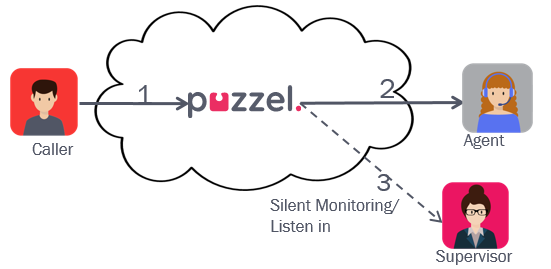 A call to the listener has event_type=L (Listen in), so that they easily can be separated from ordinary calls to agents (with event_type=c (conversation)).

The supervisor (X) will usually enter his own phone number as the listener's number, but he may order listen in on an agent on behalf of another person (Y), and therefore enter this person's number as listener's number.
Until January 22nd 2019, the call_events with event_type = L only included the listener's phone number as destination, but no value in column agent_id (see row with call_sequence 7 below). From January 23rd 2019, the call_events with event_type = L also contains the ordering supervisor's user_id (xxxxx below) in column agent_id.