The sync client must be configured before it can be started. This chapter explains how to do that. Configuration for the different mail systems are separate and are called providers. How to configure the different providers are explained below. At any point it is possible to click "save" to save the current configuration.
Switching between configurations
It is possible for the sync client to run several configurations simultaneously. These configurations are called profiles and can be managed in the user interface. To create a new profile, simply enter a new profile name and click "Create Profile".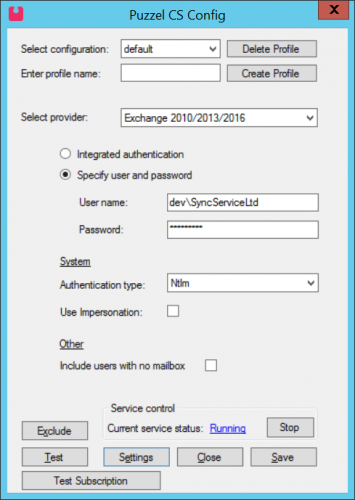 You can switch between profiles in the "select configuration" dropdown:

The profile that is currently selected is the one being edited. All the different profiles will be run by the sync client when the service have been started.
More than one profile should be used if:
It is necessary to retrieve contacts from more than one OU or AD.
It is necessary to retrieve calendars from more than one mail server or provider.
Different parts of your organization is synched to separate organizations in Connect.
Configuring the Exchange provider
On the first page some setting must also be configured for the profile.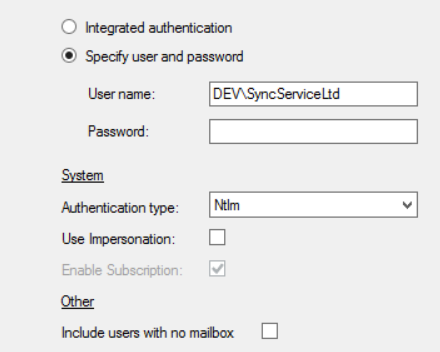 Integrated authentication: Select this if the sync client should connect using the same credentials as the service account running the service.
Specify user and password: Select this if username and password should be specified manually. In this case these parameters must also be typed in
Enable subscription: Check this if only new or updated calendars should be synched.
Use impersonation: Check this if the sync client should use impersonation when retrieving calendar. For details about how to set up privileges with and without impersonation in Exchange 2010/2013 See Create Service Account.