Der kan gemmes op til 5 felter på en dashboardfane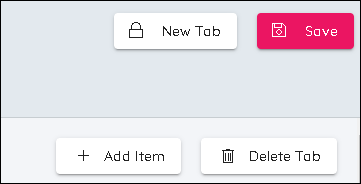 Det er muligt at have 2 dashboardfaner

Der er 4 knapper øverst til højre på skærmen. Add Item (Tilføj element), Delete Tab (Fanen Slet), New Tab (Ny fane) og Save (Gem)

Som standard vil der altid være en fane

Klik på Add Item (Tilføj element) for at tilføje felter

Vælg mellem Add Chart (Tilføj diagram), Add Stats (Tilføj statistik) og Add Campaign Summary (Tilføj kampagneresumé)

Diagrammet er til detaljerede oplysninger i tidsintervaller.

Statistik er til en tabel og viser statistik i tidsperioder: Daily (Dagligt), Week to Date (Uge til dato), Month to Date (Måned til dato)

I Campaign Summary (Kampagneresumé) vises status for uger i fremtiden med hensyn til prognoser, tidsplaner og offentliggjorte tidsplaner

Diagrammer og statistik gør det muligt at vælge, hvilke enheder der skal vises. Klik på den diagonale pegepil for at vælge data

Felter kan gøres højere eller lavere, bredere eller smallere. De kan også trækkes og slippes på forskellige positioner.