Tot 5 tegels kunnen op een dashboard-tabblad worden opgeslagen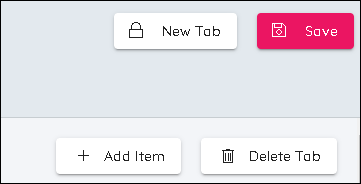 Het is mogelijk om 2 dashboard tabbladen te hebben
Er zijn 4 knoppen rechtsboven in het scherm. Item toevoegen, Tabblad verwijderen, Nieuw tabblad en Opslaan
Standaard zal er al een tabblad bestaan
Om tegels toe te voegen, klikt u op Item toevoegen
Kies uit Grafiek toevoegen, Statistieken toevoegen of Campagneoverzicht toevoegen

Grafiek is voor gedetailleerde informatie over intervallen van tijd.
Stats is voor een tabel en toont statistieken over perioden van tijd, dagelijks, week tot datum, maand tot datum
Campagneoverzicht toont de status van weken in de toekomst wat betreft forecasts, schema's en gepubliceerde schema's

Met de Grafieken en Statistieken kunt u de meeteenheden kiezen die moeten worden weergegeven. Klik op de diagonaal wijzende pijl om gegevens te kiezen
Tegels kunnen hoger of korter, breder of smaller gemaakt worden. Ze kunnen ook naar verschillende posities gesleept worden.
Klik op Opslaan om eventuele wijzigingen in het profiel op te slaan.