Lagring og opdatering af statistik for tidsplan
Når en tidsplan redigeres, er der to måder at gemme ændringer på.
Klik på ikonet Gem for at afslutte ændringerne og opdatere statistikken.

Klik på ikonet Opdater for blot at opdatere statistikken. Dette kan gøres for en enkelt dag eller hele ugen.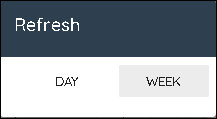 Den største forskel mellem de to metoder er, at Gem vil gemme ændringer i tidsplanen og opdatere dagens statistik.
Opdater kan bruges til at opdatere statistikken i et scenarie, hvor prognosen er blevet ændret for dagen eller ugen. Hvis der ikke er foretaget ændringer i tidsplanen.
Opdater kan også bruges, når automatisk lagring af ændringer er aktiveret. Auto Save (Automatisk lagring) udløser ikke en opdatering af statistik alene.