De Forecast Kalender
Wanneer u de module Forecast kiest, krijgt u mogelijke2 schermen te zien, afhankelijk van of er al een forecast voor de lopende week is gemaakt en of u de forecast module al gebruikt hebt. Het systeem zal uw laatste campagneselectie onthouden. De Campagne kan veranderd worden door in het veld te klikken, de datum kan ook veranderd worden door in het datumveld te klikken. In de kalender zijn kleuren te zien die de status van de bekeken weken aangeven.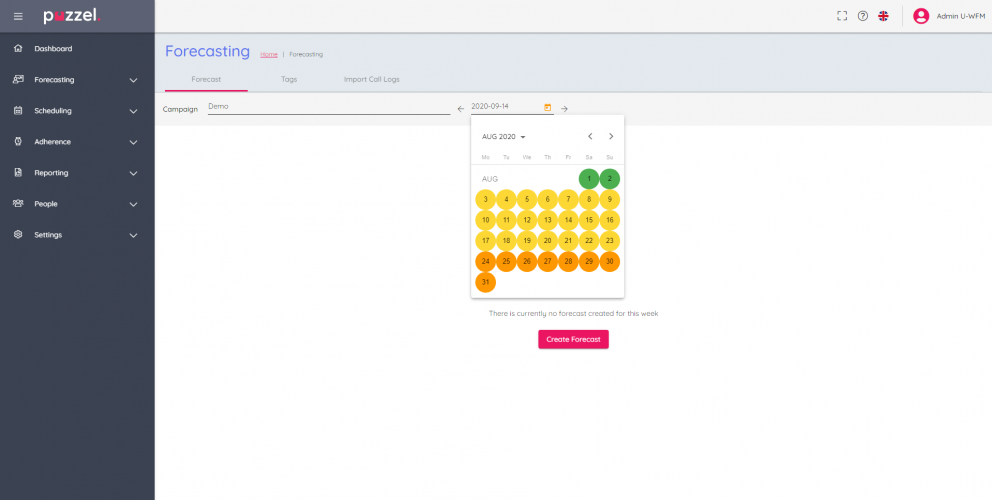 De weken hebben de volgende kleurcodering –
Rood - Er is geen forecast
Oranje - Er bestaat een forecast, er is geen tijdschema opgesteld
Geel - Er bestaat een forecast, er is een tijdschema opgesteld.
Groen - Er bestaat een forecast, een planning is gemaakt en gepubliceerd.
Door te klikken op een week waar een forecast is aangemaakt, wordt de actieve forecast op het scherm geladen.
Als u op weken klikt waarin geen forecast bestaat, verschijnt de knop "Maak forecast" om het wizard proces te starten.