Historische informatie moet worden geïmporteerd naast datum en tijd, in intervallen van 15 minuten. Er kan maximaal één jaar worden geïmporteerd.
Gegevens kunnen op een van de volgende twee manieren geïmporteerd worden (zie onderstaand voorbeeld):
Tijd en datum gescheiden

Tijd en Datum
gecombineerd Slechts één van deze kan gebruikt worden.
Het bestand moet een tekstbestand zijn (voor een voorbeeld e-mail: support@u-wfm.com).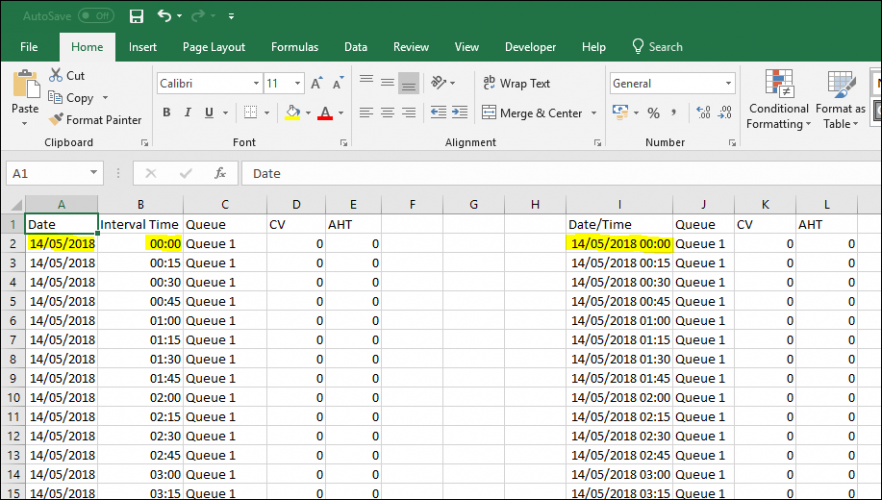 Klik op "Forcasts" in het menu bovenaan, en dan op "Oproeplogs importeren" in het menu links

Kies de campagne uit de vervolgkeuzelijst

Kies Ja of Nee (standaard = nee) om aan te geven of de gegevens in een andere tijdzone zijn dan de campagne

Als u slechts één wachtrij importeert, kies die dan uit de vervolgkeuzelijst, als u meerdere wachtrijen in één campagne importeert, kies dan als "Gedefinieerd in bestand"

Klik op "Bestand kiezen" Navigeer naar het te uploaden bestand en klik op O" pen"

Kies het scheidingsteken, in dit geval zoals in excel is het scheidingsteken Tab.  Klik op T" ry Instellingen"

Als het bestand goed is opgezet, zal er een voorbeeld worden getoond

Klik op "Mijn kolommen zijn juist"

Kies vervolgens of het geüploade bestand gecombineerde of aparte Datum en Tijd velden heeft.

Kies de juiste kopjes uit de dropdown boxes en zorg ervoor dat het juiste datum- en tijdformaat gekozen is. Zie het onderstaande voorbeeld

Klik op "Import proberen"

Als het gelukt is, verschijnt de boodschap "Import Success".