Managing personal address book
You can maintain your personal address book in Puzzel Ticketing with the necessary contact details as shown below.
To add a address book entry, click on the user profile icon on the top right corner of your screen and select Address Book from the drop-down menu.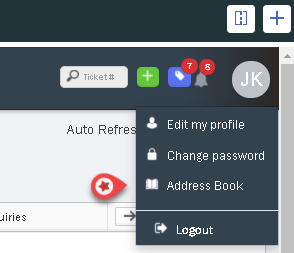 You can either import a contact list from a CSV file or manually add them yourself. Click on the

option to manually add an entry. You will now be presented with the Contact screen, where you can add the details and Save.

Remember to click on the arrow button as shown in the picture before saving.
Editing and Deleting contact entry
To edit an entry, click on the

next to the entry you wish to edit. This will take you to the contact screen. Make the necessary changes and Save the entry.
To delete a contact, click on

next to the entry you wish to delete. Click on Confirm to affirm your decision.