Uuden sosiaalisen median lähteen lisääminen
Aloita uuden lähteen lisääminen sosiaalisen viestinnän ratkaisuun painamalla painiketta.

Tämä näyttää uuden lähteen lisäämisen valintaikkunan: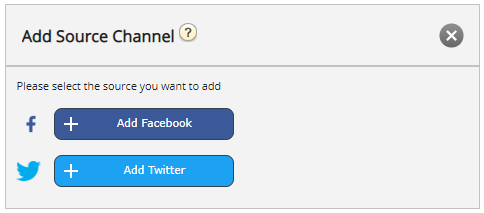 Tällä hetkellä kaksi tuettua kanavaa ovat Facebook ja Twitter.
Please note that, effective from Aril 29th, 2023, support for Twitter as a messaging channel for the Puzzel Contact Centre platform will be suspended. Please see the
relevant announcement
 for more information.