Als u een bestand met (klant)contacten wilt uploaden, klikt u op "Bestand uploaden" en volgt u de instructies.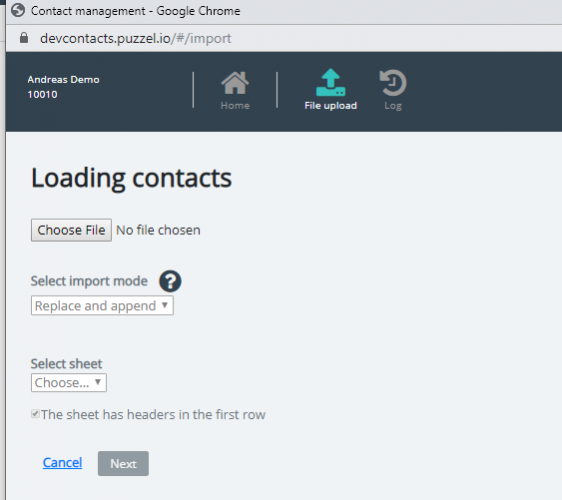 Klik eerst op "Bestand kiezen" en selecteer het juiste Excel-bestand op uw computer.
Kies dan "Vervangen en toevoegen" of "Volledig vervangen".
Selecteer vervolgens het juiste sheet in uw bestand.
Als uw bestand een rij met kopteksten bevat, vink dan "het sheet heeft kopteksten in de eerste rij" aan
Klik dan op Volgende.
Op de pagina Kolommen toewijzen moet u de kolommen in het bestand toewijzen aan de juiste kolommen in de Contactentabel in Puzzel.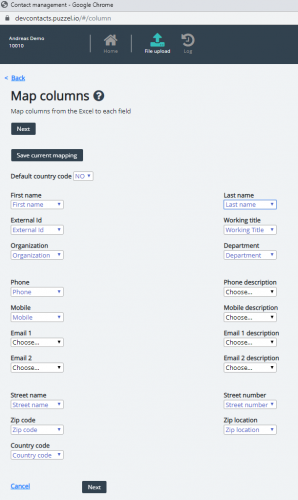 Als u de voorgestelde kolomtitelbenamingen hebt gebruikt, zal (het grootste deel van) de toewijzing automatisch gebeuren.
Als dit bestandsformaat het formaat is dat u de volgende keer (elke keer) zult gebruiken wanneer u een contactpersonenbestand uploadt, is het zeer nuttig om te klikken op huidige toewijzing opslaan.
Als u klaar bent met het in kaart brengen, klikt u op Volgende om naar de pagina Voorbeeld (bestand uploaden) te gaan.
Als de toewijzing er correct uitziet, klik dan op Start importeren. Zo niet, klik dan op <Terug om de toewijzing aan te passen of op "Annuleren". Als de import voltooid is, ziet u een nieuw item in het logboek importeren.