De beheerder kan ervoor kiezen om een opvolgingsbericht in te schakelen voor één of meerdere scores. Indien het opvolgingsbericht is ingeschakeld voor een score, zal het opvolgingsbericht naar de beller worden gestuurd vóór het antwoordbericht.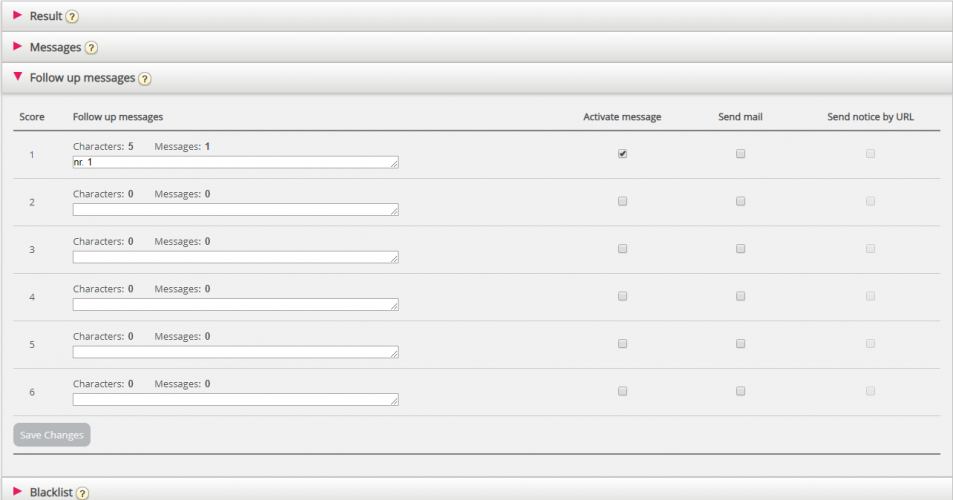 Als u "Bericht activeren" voor een score aanvinkt, zal het opvolgingsbericht worden verzonden naar bellers die deze score verzenden.
Als u "E-mail verzenden" voor een score aanvinkt, zal een e-mail worden verzonden naar het vooraf ingestelde e-mailadres voor elke keer dat deze score wordt ontvangen.
Als u "Bericht verzenden per URL" aanvinkt voor een score, wordt een URL met opgegeven parameters getriggerd voor elke keer dat een beller deze score geeft. Voorbeeld: Terugbellen naar gebruiker wordt automatisch geregeld bij score 0 of 1.
Het is ook mogelijk om een gemeenschappelijk opvolgbericht in te stellen voor SMS Web-enquête. Dit wordt gedaan onder de accordeon "Berichten".