The agent application is available through your computers internet browser on agent.puzzel.com, and does not require any installation. In general, the web application supports both PC and Mac, since it only requires an internet browser.
The agent application is also integrated with Microsoft Azure which enables SSO for all agents. If your company is using Microsoft Azure to store agent details and wish to SSO without having to enter the login details as shown in the next section, use the URL https://agent.puzzel.com?connection=azure. 
Signing into the application
Open the Puzzel application in your web browser and enter your logon credentials, followed by clicking on the "Sign In" button.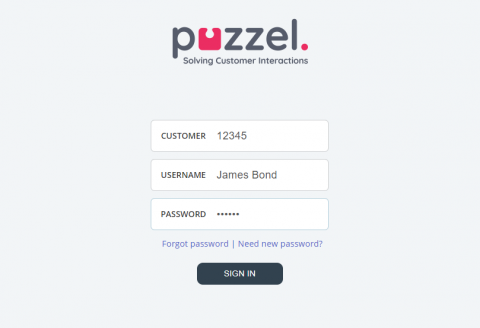 Contact your administrator if you do not have these credentials. If it is the first time you log on, you may not yet have received a password. If so, just click on the Forgot password | Need new password? text below the input fields and follow the procedure. This function is only possible if your user account is registered with your e-mail address or mobile phone number.
If your solution is set up with two-factor authentication, you are asked to enter an additional code sent to your phone or e-mail address, if defined in your user account.
Signing in to the application does not mean that you are logged on to queues to receive requests. You must in addition log on to the queues in order to receive requests.
After having signed in, your application should look something like this: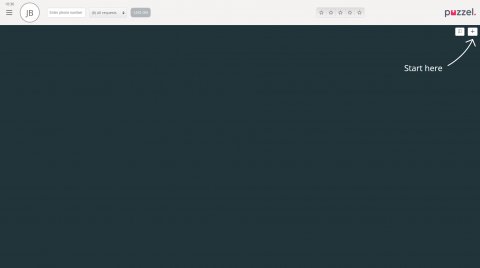 From here you can either log on to queues from the upper status bar to receive requests or follow the Start here arrow to open one or more tabs and see specific contact centre details e.g. queue overviews.
Signing out of the application
To sign out of the application, click on the menu icon in the top left corner, and chose Sign out.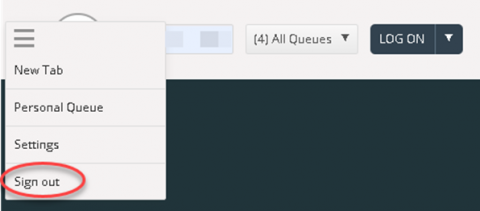 Signing out- or closing the application does not log you off the queues and you will still receive calls to your telephone if your status was Ready when doing this. If you do not want to receive calls on your phone after signing out or closing the application, be sure to log off the queues first.