Change Log
Under Change Log visas en översikt över de ändringar som har gjorts de senaste tre månaderna. En lista med de senaste ändringarna visas. 
Du kan söka på ändringar som har gjorts i en specifik modul, under en specifik tidsperiod och/eller av en specifik användare.
Ändringsloggen inkluderar de viktigaste ändringarna. De ändringar som omfattas av loggen kan ses i listrutan i fältet Module:
Archive subscription (changed storage time)

Chat config

Dialler

Display queue

System Queue (e.g. SLA change)

Enquiry registration

Filter

KPI alarm

Profile

Property

Request (e.g. request deleted from queue)

Service variable

Services

Sound file, Sound category and Sound file in service

Time module

User account and User group

User status (agent log on/off/pause done by admins)

Widget Tab (which tabs that are enabled/disabled in agent.puzzel.com)
Access Log
Access Log visas under Change log för användare som har tillåtelse att se loggen (Users - Products - Sign in to Puzzel - Show access log).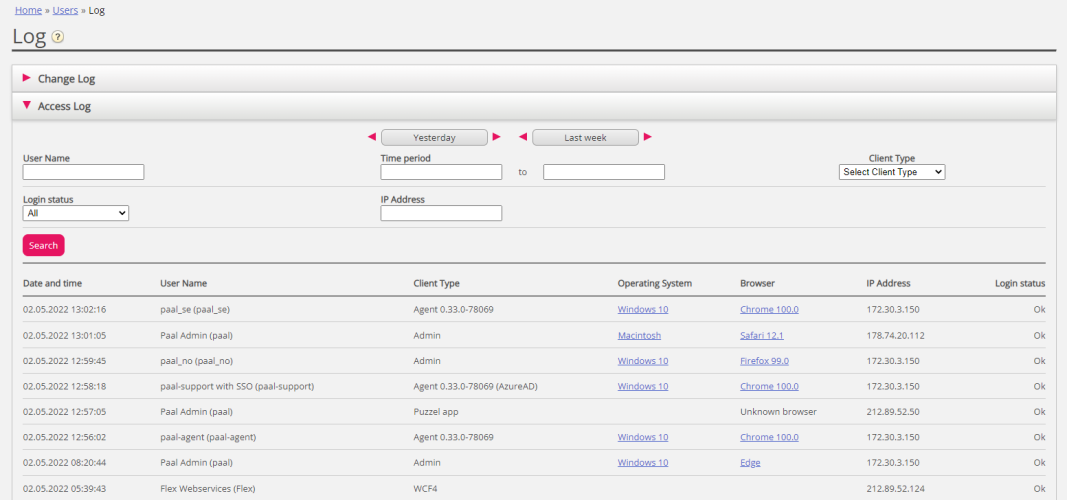 Access Log visar inledningsvis de 20 senaste inloggningsförsöken till Puzzel (inte inloggning på köer). Du kan söka efter inloggningsförsök med olika sökvillkor som användarnamn, klienttyp (exempelvis Agent, Admin, PuzzelApp), inloggningsstatus (OK, Rejected) och IP-adress.         
Varje gång du försöker logga in i Puzzel med ditt kundnummer lagrar systemet tidsstämpeln, användarnamnet, info om operativsystem, webbläsare, käll-IP-adress och resultat (loggades in eller misslyckades). Inloggningsförsöken lagras i 90 dagar.