Alla resultat från undersökningen visas i menyträdet. Listan är sökbar efter datum, agent, könamn och poäng. Om du har definierat flera användargrupper anges även detta (Team). I stället för att få resultaten från en undersökning visade endast på skärmen, är det möjligt att ladda ned resultaten direkt till en XLSX-fil.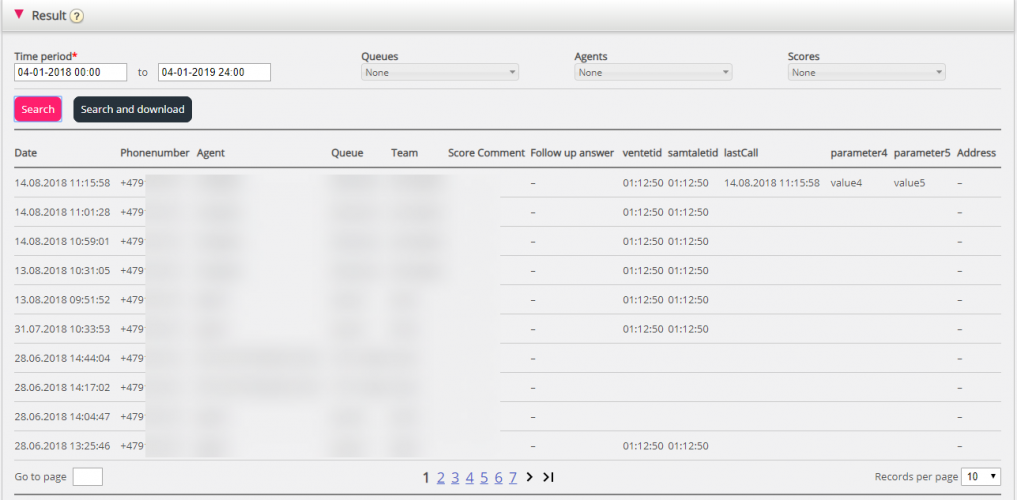 Poängen läggs till i Score-kolumnen. För svar där uppringaren har skrivit något annat eller något utöver en poäng, läggs detta till i kolumnen Comment. Om ett uppföljningsmeddelande skickas och uppringaren svarar på detta, kommer det att visas i kolumnen Follow-up answer.                
Varje natt anonymiserar Puzzel telefonnummer för inspelningar som är äldre än fyra månader.                                                                                    
De (aggregerade) sms-undersökningsresultaten finns även tillgängliga i Wallboard (Avg, Survey score per queue so far today), Ticker (Avg. score per queue/usergroup and agent so far), Archive (score and comment per caller), Statistics (SMS/Chat Survey score per queue) samt i rådata.