How to send surveys from Puzzel Case Management
The following section outlines how to send surveys created in Puzzel Customer Insight, using Puzzel Case Management. 
To send the survey you will need to access the Survey Editor in customer Insight and copy the Survey ID.  
You can find the Survey ID by following the steps below: 
Go to the Admin Portal main menu   

Click on Insight 

Select Survey Management 

In the Surveys tab, click on the specific survey 

This will open the Edit tab 

The Survey ID can be found under "General" 

Copy the Survey ID by clicking on the copy icon of the field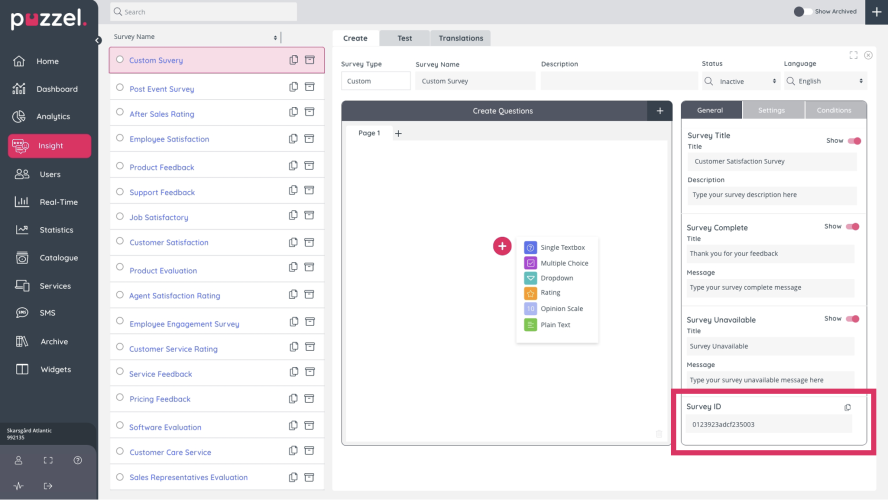 Once you have copied the Survey ID, you will then need to: 
Access Puzzel Case Management 
Navigate to "Settings" from the menu at the top of the screen 
Hover over "Integrations" 
On the menu that appears to the right, hover over "Customer Insight"  
Click on "Settings" 
You will then be asked to enter your 'Solution ID'.  This is the same as your Puzzel Customer Number.
You should then click on 'Edit Details', and click on the 'New' button to add a team connection.
You will then view 7 fields: 
Team Selection
Delay before sending NPS request in hour(s) 
Set sampling percentage 
Customer Insight Send Method [choose to send a survey with a link or send an embedded email survey]
Customer Insight Survey ID
Number of days before expiration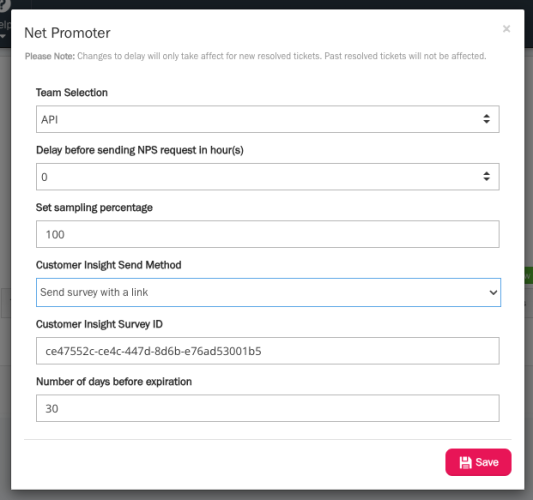 When Customer Insight has been enabled in Puzzel Case Management,  the "Ticket Reference" variable is pushed to Puzzel Customer Insight when a survey response is requested. This means that feedback obtained from surveys can be linked to the Ticket ID the request originated from.
Below is an example snippet of the payload of data sent to the survey API.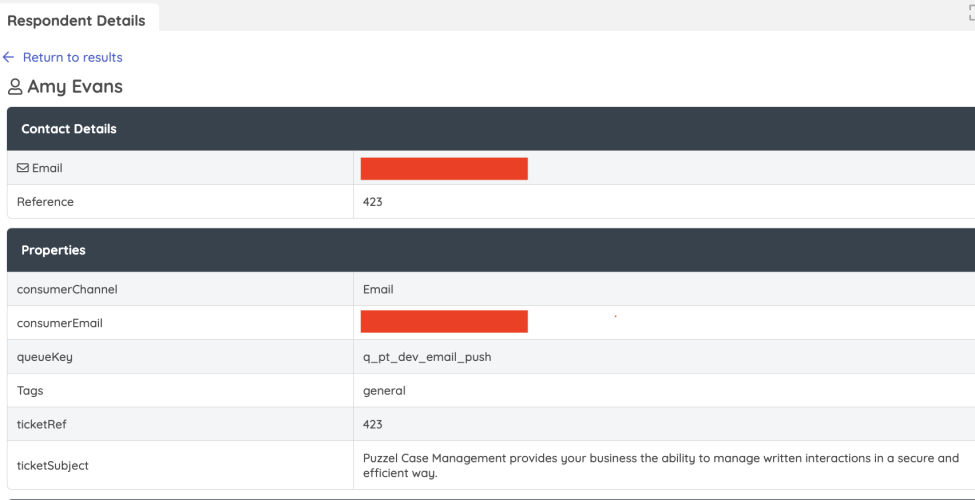 Where:
Client reference: the Ticket ID
Expiry Time: the time at which the survey should expire