Creating recurring activities
There are 2 ways of adding recurring activities.
- In the Schedule screen
- In the Activity Calendar
Schedule Screen
1. Right click on an agents timeline.
2. Enter the Activity Type, Start and Length of the activity.
3. To have the activty reoccur, tick the box for 'Duplicate Activity'
4. Tick the boxes for which days you want the activity to be duplicated.
5. Enter the date that the activites should stop.
6. Click Save.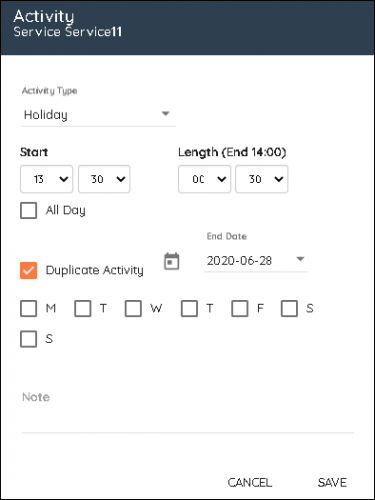 Activity Calendar
Right click on the date the activity starts from.
Choose the activity from the dropdown box, the start time and the length. Enter a note if required. Click Next
Choose the agent or agents that should attend the activity. Searching and filtering can be used.
Click Next
Click Assign

 

to add the activity or tick the Recurring

 

box.
Choose to repeat the activty at a specifed frequency for Days, Weeks or Months.
Choose the end date.