Survey Elements and Settings
The Survey Designer includes two panes, one for questions and one with multiple tabs that allows users to customise the survey's elements and settings. The second pane includes the following tabs:
General
Settings
Conditions
In this section, we will cover General and Settings. For Conditions, please see the following section, "Survey Conditional Logic".
General
In this space you can customise elements of the survey.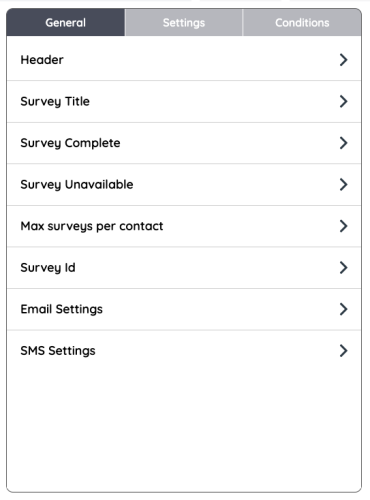 The elements of the survey are explained in more detail below: 
A logo for the header (recommended specs are 300x00 pixels and up to 1MB file size).
Survey title and description.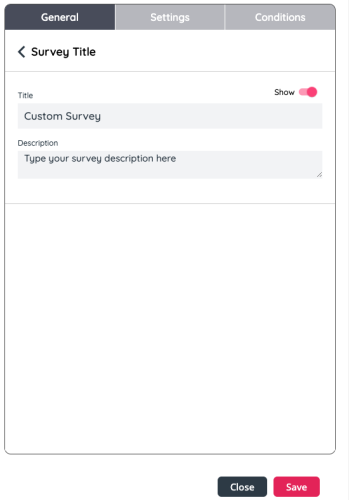 Survey Complete: message for respondents that completed the survey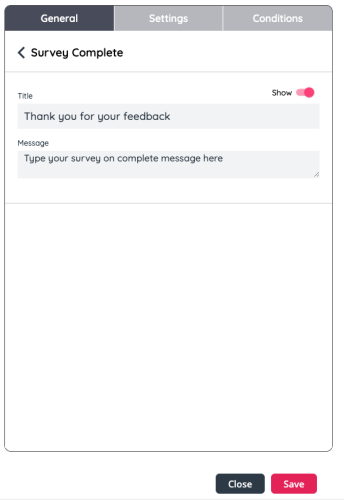 Survey Unavailable: create a message for visitors to see when they access the link, after the survey has been removed, expired or when they have already submitted a response to the survey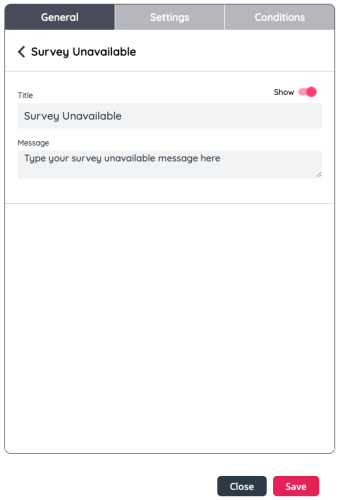 Max surveys per contact: It is also possible to limit the amount of surveys sent, via the various channels, in a specific period of days to each contact. To do this you will need to toggle the switch next to "Max Surveys per contact" on, set a limit number and a number of days, then click Save.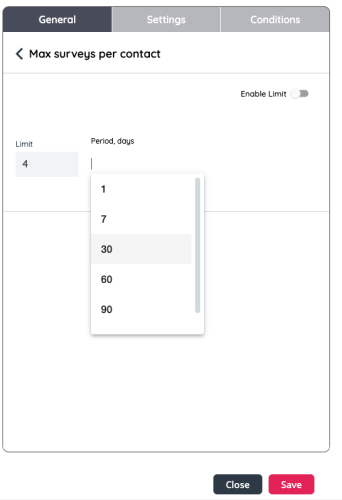 Email settings: this section enables users to configure the email settings for surveys sent via email. For more information on this section, please refer to this guide.
SMS Settings. For more information on this section please refer to this user guide.
The toggle switch to the right of each section's title enables you to choose whether to show each of these sections or not. Settings
In this section, you can change the settings of a question. To do so, you will need to first click on the question, and then navigate to the Settings pane. The settings you can edit include:
The Survey Element Name
Whether it should appear or not in the "Show" slider
Whether it's required using the "Required" toggle switch
Depending on the questions you can customise the type of rating, the scale length and character limits accordingly. 
Please note that some of the templated element settings are not possible to edit, since these would invalidate the survey.
Video Tutorial
Watch our video tutorial on the Survey Designer's Elements and Settings below: