The Knowledgebase management dashboard consists of three parts, details of which are explained in the table below:
| Screen blocks | Description |
| --- | --- |
| Top ribbon | Lists various menu options and a search bar |
| Left panel | This essentially contains the article categories and sections and also features top rated articles |
| Center panel | This space is used for listing various options selected on the screen, and for editing a selected article. |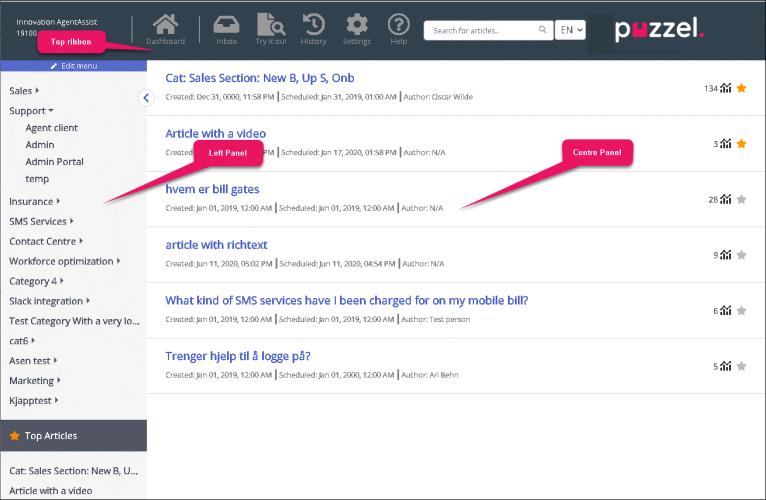 The top ribbon consists of 3 menu options and a search panel. The menu options are:
Dashboard: Screen that is displayed as soon as you have logged in
Inbox: Contains Knowledgebase article suggestions from agents for Admin's approval.
Try it out: A space to try out search results of articles based on the search query.
History: Displays the audit log of various activities performed in Knowledgebase management system to help admins and supervisors monitor the actions. Upon clicking on the listed entry, the article will be opened in the editor.
Settings : Place to import Knowledgebase articles from a CSV file.
Help: Provides description about various concepts/actions
The search panel can be used to perform any search activity, the results of which are displayed in the center panel.
The left panel is a two-level hierarchical structure of article categories and sections. Also listed is the top articles at the bottom. This panel will be empty when you have first logged in and you will be prompted to create a new category. Once you have created several categories/sections and articles under it, the screen looks like the picture shown above.