Agent Assist Contact Management System
If you have access to page Services Agent Assist you will see the link to the Contact Management system and possibly the link to the Knowledgebase Management system.

The Agent Assist Contact Management system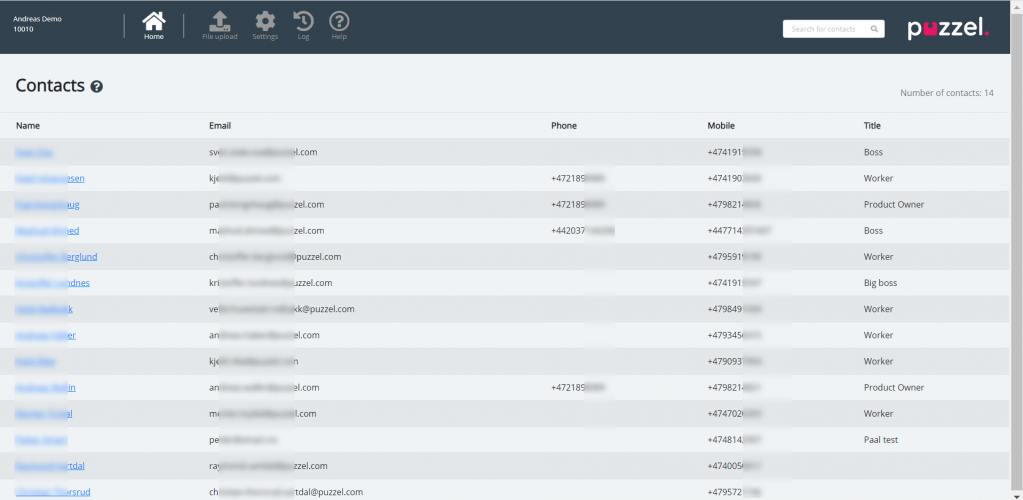 In the Contact management system, you can:
Upload a file to add/replace the (customer) contacts in Agent Assist*
Configure settings for FTP import of contacts
See contacts/search for contacts
See the contact file Import log
* If configured, these contacts are also available and searchable in the Agent application as search source Customers when the agent wants to make an outbound call or when choosing Forward to consult or transfer the call.
Agent Assist in the Puzzel Agent application needs a contact list so that the correct contact can be found and shown to the agent when the agent receives a call/chat/email.
To be able to find calls and emails/chats in the Archive and show it in Agent Assist interaction history, the calls must be from the number(s) registered on the contact, and the emails/chats must be from the email address(es) registered on the contact.
The storage time for General information in the Archive determines how old calls/chats/emails that will appear in the Agent Assist Interaction history.
The Agent Assist Interaction history shows some of the information related to calls/chats/email from the Archive, but not all details.
The contact file(s) can be uploaded in the Agent Assist Contact management system, or you can schedule a contact file export task from your CRM system so that Puzzel can fetch a contact file from Puzzels FTP server e.g. each night/week.