On page Users - Users you find a list of all users, and you can add, edit and delete users.
You can choose to show all users or users in a user group, listed alphabetically by First name or Last name. You can search for users by typing e.g. (parts of) the first name, last name, user name, email address, mobile number or a resource filter name in the Filter input box. You can uncheck columns you don't want to search for match in. A search for e.g. paal ko returns users containing paal OR ko, while a search for paal ko returns users containing the whole string within the quotation marks. You can sort the list by clicking on column headings.
You can also search for users with a given skill and optionally specific skill levels in all or a selected user groups, and you can search for users with a specific profile.
The columns:
Name: If the users first and last name is entered, it will show in this column. Otherwise, the users username will show. Click on a users name to open the Edit user page for this user
Email: Users with registered email address will have this symbol (and email address as tooltip)
Mobile: Users with registered mobile number will have this symbol (and the number as tooltip).
Filter: Users with resource filter(s) assigned to them will have this symbol (and filter name(s) as tooltip)
Bot: 

Users that are bots (automated agents). Only Puzzel can mark a user as a bot.

Numeric ID: Each agent can have a unique numeric ID, e.g. employee-number. If an agent needs to log on to queues using the phone (back-door), this number is needed
User Group: What user group the user (agent) belongs to
Username: The username is what the user is using to sign in to Puzzel, either in the agent application or in the Administration portal
Keywords: Optional extra information per user, useful when agents are searching for someone to call/transfer to/consult with. Keywords can be used to add information about e.g. special skills, languages, location or department. One user can have 1 or more keywords, but max 100 characters. 
External_id: The user's external id (for SSO), if any.
Last sign-in: The user's most recent sign-in to Puzzel.
Delete: Click on the Garbage can icon to delete the selected user
Click on a user's name to open the Edit User page:
Profiles available for the user
Click on Group profiles on the Edit User page to see the available group profiles for this user.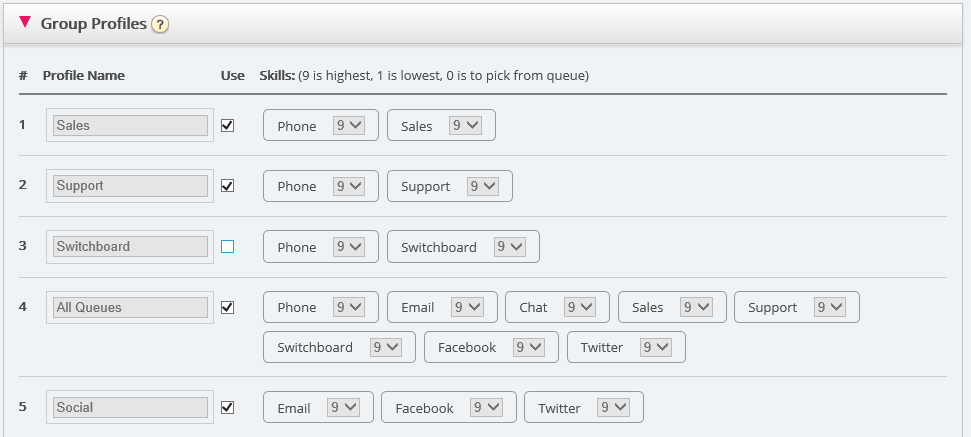 If you want to change which group profiles this agent should be able to use, check/uncheck the relevant profiles and save.
If you need to create/edit a personal profile, this can be done under accordion Personal profiles.